Carestream Health Unveils New Medical Imaging, Healthcare IT Products at World's Largest Radiology Conference
Systems Designed to Speed Diagnosis and Treatment of Patients, Improve Efficiency for Healthcare Providers
CHICAGO, Dec. 2 — Carestream Health demonstrated its proven ability to develop new radiology products and healthcare IT systems while simultaneously expanding into ultrasound and radiography/fluoroscopy imaging at the annual Radiological Society of North America (RSNA) conference this week.
The company displayed new digital X-ray detectors; two premium ultrasound systems; and its new radiography/fluoroscopy platform while showing a cone beam CT (CBCT) system intended for orthopaedic imaging in hospitals, hospitals, clinics and sports medicine facilities. The CBCT system is INVESTIGATIONAL and NOT AVAILABLE FOR COMMERCIAL SALE.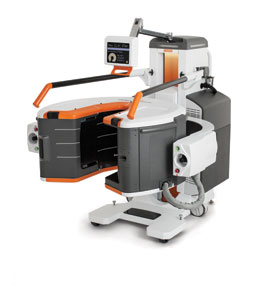 "Our new systems help enhance the quality of information provided by medical imaging exams while delivering improved productivity and ease of use for a broad range of healthcare providers," said Jianqing Bennett, President, Digital Medical Solutions, Carestream. "Carestream's product developers worked with customers to deliver features that address diagnostic imaging challenges that exist across the globe."
Carestream also offers healthcare IT platforms that manage, store and share patient data and medical imaging exams. The enhanced interoperability of its Clinical Collaboration Platform allows data to be aggregated to create a more holistic view of the patient, and makes patient records readily accessible to authorized physicians. Carestream's Vue Motion universal viewer enables physicians to quickly and easily view and share medical images and reports using mobile devices—and a new self-service kiosk allows patients to output their radiology reports and medical images onto paper, radiographic film or a USB device.
Carestream's growing portfolio of imaging products includes:
New CARESTREAM DRX Plus 3543 and DRX Plus 3543C wireless X-ray detectors that are faster and lighter than previous models, and offer features to help users achieve higher productivity and improved image quality.
Affordable, high-quality CARESTREAM DRX-Excel and DRX-Excel Plus radiography/fluoroscopy systems that enhance workflow and perform contrast exams using fluoroscopy that can be associated with a radiography image, in addition to specialized interventional procedures.
CARESTREAM Touch Prime and Touch Prime XE ultrasound systems that capture images for radiology, OB/GYN, musculoskeletal and vascular applications. These systems can deliver enhanced views of moving anatomical structures, and equip sonographers and clinicians to gain better visualization of small structures and contrast differences in tissue.
New CBCT technology being used in clinical studies to capture weight-bearing images of patient extremities including knees, legs and feet, which can help orthopaedic and sports medicine specialists diagnose and treat a host of orthopaedic conditions.
To view information about Carestream systems being demonstrated at RSNA please visit www.carestream.com/rsna.