Carestream Health Donates $1 Million in New Ultrasound Systems to Diagnostic Medical Sonography Program at RIT
Donation Benefits Students and Faculty in Top-Ranked Program; Ongoing Collaboration Will Help Enhance Carestream's Design of New Ultrasound Systems
ROCHESTER, N.Y., Feb. 5 — Carestream is donating $1 million in new ultrasound systems to the Rochester Institute of Technology's Diagnostic Medical Sonography Program to be installed in RIT's new Clinical Health Sciences Center, scheduled to open later this year.
The donation will help RIT faculty provide a richer academic experience for students through involvement with a broader variety of ultrasound systems. In turn, Carestream will benefit from insights from RIT faculty and feedback from the next generation of ultrasound professionals that can be used in validating new ultrasound product designs.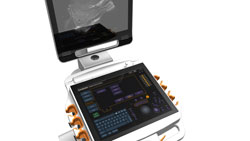 The donated systems will include new Carestream ultrasound systems, and will be delivered over the next 12 months.
The field of ultrasound is a critical specialty in the practice of medicine for the diagnosis of disease. RIT's Diagnostic Medical Sonography program is accredited by the Joint Review Committee on Education in Diagnostic Medical Sonography (JRCDMS) of the Commission on Accreditation of Allied Health Education Programs (CAAHEP).
RIT's program is one of the few B.S. degree programs of its kind in the nation and is well respected by employers and medical communities, according to Hamad Ghazle, Director of the Diagnostic Medical Sonography program at RIT. The program is housed in RIT's College of Health Sciences and Technology and graduates between 26 and 30 students each year.
"We cannot commend Carestream enough for its insights and vision in empowering and enhancing our curriculum by expanding into new horizons and putting cutting-edge, highly innovative and user-friendly diagnostic ultrasound equipment in the hands of students early in their training," Ghazle said. "Partnerships and donations like this allow our students to be active participants in the development and advancement of new technology, and at the forefront of ultrasound education and technology. And it allows RIT to provide the healthcare market with well-rounded, well-educated, well-trained and experienced sonographers."
Carestream works closely with a wide range of academic research partners in the development of its medical imaging and information systems. The company's products and services are present in healthcare facilities worldwide—from clinics and hospitals to large healthcare networks and health systems covering entire countries—and much of the work behind its global product footprint takes place in Rochester.
"RIT's Diagnostic Medical Sonography Program utilizes highly trained radiologists, physicians, sonologists and sonographer teams to educate its students and this is something we want to support in a big way," said Diana L. Nole, President, Digital Medical Solutions, Carestream. "Our new ultrasound platform was developed based on extensive input from sonographers and other ultrasound imaging professionals. The insights we will gain from leading experts and students at RIT will help us design innovative products that will lead to improved patient care and a better work experience for sonographers."
In December 2014 Carestream unveiled its new CARESTREAM Touch Ultrasound System that offers a revolutionary combination of exceptional user experience and image quality to meet the needs of even the most demanding radiologists and sonographers. The system's unique features are planned to extend across a family of ultrasound products, and the first two products in the Touch Ultrasound family are expected to ship in the third quarter of 2015.
With 7,000 employees worldwide and 1,250 people working in Rochester, Carestream is a global company with 15 manufacturing and R&D locations, including three Technology & Innovation Centers, and serves customers in more than 170 countries around the world.
                                                                        ###
About Rochester Institute of Technology
Rochester Institute of Technology is home to leading creators, entrepreneurs, innovators and researchers. Founded in 1829, RIT enrolls 18,000 students in more than 200 career-oriented and professional programs, making it among the largest private universities in the U.S.
The university is internationally recognized and ranked for academic leadership in business, computing, engineering, imaging science, liberal arts, sustainability, and fine and applied arts. RIT also offers unparalleled support services for deaf and hard-of-hearing students. The cooperative education program is one of the oldest and largest in the nation. Global partnerships include campuses in Croatia, Dubai and Kosovo. For news, photos and videos go to www.rit.edu/news.