MD Buyline Reports: Carestream Earns Highest Rating for DRX-Revolution Mobile Systems and Room-Based DRX Systems
Customers Praise Performance, Reliability and Installation of Company's DRX Family of Products and Detectors
ROCHESTER, N.Y., April 15 — Carestream earned the top rating in MD Buyline's Market Intelligence Briefing™ (2015 Q1) for both portable and room-based DR systems. Carestream's DRX-Revolution Mobile X-ray System and its DRX-Evolution and DRX-Ascend systems earned high marks from customers for system performance, reliability, installation and service repair quality. The DRX-Revolution was the highest rated portable system and Carestream's DRX room-based platform tied for the highest rating in the DR room category.
MD Buyline reports for imaging systems are based on user satisfaction ratings in the following categories: system performance, reliability, installation/implementation, applications training, service response time and service repair quality.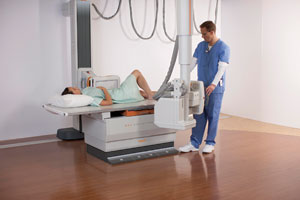 According to MD Buyline, "the DRX-Revolution boasts a unique system design with a collapsible tube column, tube/line visualization software, grid alignment, high kW power capacity, built-in caddies … and other progressive design features."
The report notes that many hospitals are adding Carestream's small-format DRX 2530C cesium iodide detectors to meet the need for high-resolution imaging in the neonatal intensive care unit (NICU), as well as orthopaedic surgery and other applications. It also stated that "users praised Carestream's customer service, troubleshooting and knowledgeable staff."
MD Buyline's report on DR rooms commended Carestream for "adding an increased level of system flexibility and the ability to be more creative when tailoring an X-ray system to a specific site's needs." In addition, technologists stated that Carestream's DRX detectors provide "a flexible solution with both retrofit kits and new systems." The report also spotlighted excellent performance and customer satisfaction with Carestream's family of DRX-1C and DRX 2530C cesium iodide detectors and the DRX-1 detector. Customers also commended Carestream for its "longstanding reputation for stellar service and support."
Carestream offers a full portfolio of in-room and mobile X-ray imaging systems as well as the ability to retrofit existing equipment. The DRX-Revolution optimizes imaging for inpatients and critical care areas with a small footprint and a long tubehead reach that provides easy access to patients in rooms crowded with bedside medical equipment.
Carestream's room-based systems offer automated, motorized overhead tubes for positioning convenience and productivity or non-motorized tubes for greater economy. Software and hardware features accommodate specialties such as pediatrics, orthopaedics and trauma care.
###
About MD Buyline
For 30 years, healthcare providers have trusted MD Buyline for evidence-based clinical and financial insight into medical capital, technology, supplies and services. Staying true to our founding principles, MD Buyline continues to create transparency within the healthcare industry. By providing objective data, we enable hospitals to make informed financial and clinical decisions that are right for their hospital and patients. We serve about half of the nation's hospitals and health systems. For more information, visit www.mdbuyline.com.