ROCHESTER, N.Y., April 22 — Carestream and UBMD Orthopaedics & Sports Medicine are conducting clinical studies on a new three-dimensional medical imaging system at ECMC for use in treating orthopaedic conditions. These studies will help guide Carestream's development of new cone beam CT (CBCT) systems with the goal of providing orthopaedic solutions for hospitals, clinics and sports medicine providers that use less radiation than traditional CT; are compact and affordable; and could be used in a wide range of facilities.
Physicians from UBMD Orthopaedics & Sports Medicine—all experts in caring for patients with musculoskeletal problems—are working with Carestream researchers to explore the benefits of using CBCT technology for capturing images of patient extremities (knees, legs, feet, arms and hands). Musculoskeletal diseases affect more than one out of every two persons in the United States age 18 and over, and nearly three out of four age 65 and over.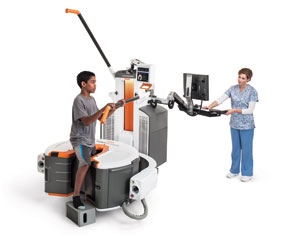 With new digital CBCT technology, healthcare providers can acquire otherwise unavailable weight-bearing (i.e. the patient is standing upright) images of knees, legs and feet, which are of particular interest to orthopaedic and sports medicine specialists. The two organizations plan to broaden their collaboration at a later date to study the advantages of digital imaging technology in treating other extremity conditions. The CBCT system used in this study is INVESTIGATIONAL and NOT AVAILABLE FOR COMMERCIAL SALE.
"Our collaboration with UBMD Orthopaedics & Sports Medicine is a prime example of how important customer research is in driving successful innovation. We are able to test product and business concepts in a real clinical environment, which is superior to theorizing or anticipating key design elements," said Diana L. Nole, President, Digital Medical Solutions, Carestream. "These studies will help us evaluate the clinical and business advantages of CBCT systems and help to answer questions including: Does it improve patient outcomes? Does it improve the patient experience? Can we further develop CBCT systems to deliver the image quality suitable for assessing other conditions such as traumatic brain injuries?"
The Erie County Medical Center is an advanced regional medical center and major teaching facility of the University at Buffalo. A member of the Great Lakes Health System of Western New York, ECMC is the Adult Regional Trauma Center and operates 602 licensed beds located in Buffalo, NY.
"We think the novel capabilities of the Carestream CBCT scanner have broad application to the basic science and clinical practice of orthopaedics and sports medicine. We are launching an initial clinical study that may help surgeons more accurately and objectively diagnose the degree of instability of the patella (knee cap)," explains Dr. John Marzo, a physician with UBMD Orthopaedics & Sports Medicine, Associate Professor of Clinical Orthopaedics, School of Medicine & Biomedical Sciences, University at Buffalo and former Medical Director, Buffalo Bills.
"A second collaborative project will validate the ability of the CBCT scanner to measure contact area inside the knee joint, which will be valuable in a host of clinical situations. We have several other projects in various stages of development to be performed over the next 2-3 years that establish a mutually beneficial relationship with Carestream Health," Dr. Marzo added.
Carestream is committed to developing orthopaedic solutions for use by hospitals, clinics and sports medicine providers. For example, a Carestream CBCT system could be used in the stadium or locker room to enable timely evaluation of players to help determine whether they should return to a game or practice session, or be referred for further medical treatment.
As part of this development effort, Carestream researchers continue to gain valuable insight from working with the Buffalo Bills to better understand the use of advanced medical imaging technology in early detection and monitoring of player injuries, as football has the highest number of knee and ankle injuries. Market studies cite an expected increase in demand over the next 20 years for orthopaedic and sports medicine care given higher patient longevity and active lifestyles of "weekend warriors" and recreational enthusiasts.
                                                                  ###
About UBMD Orthopaedics & Sports Medicine
UBMD Orthopaedics & Sports Medicine offers complete care of all orthopaedic and musculoskeletal problems. Its board certified and fellowship trained physicians have the experience and expertise to handle the entire spectrum of bone and joint problems, resulting in leading edge evaluation and treatment for patients. The doctors of UBMD Orthopaedics & Sports Medicine proudly maintain a tradition of excellence that dates from the first orthopaedic course offered at the University at Buffalo in 1886. Its doctors are also professors at the University at Buffalo School of Medicine and Biomedical Sciences, training orthopaedic surgeons of the future and conducting cutting-edge research that translates into new medical devices, treatment and care. For more information visit www.ubortho.com. 
About Erie County Medical Center
The Erie County Medical Center (ECMC) Corporation includes an advanced regional medical center with 602 inpatient beds, on- and off-campus health centers, more than 30 outpatient specialty care services and Terrace View, a 390-bed long-term care facility.ECMC is the regional center for trauma, burn care, behavioral health services, transplantation, and rehabilitation and is a major teaching facility for the University at Buffalo. Most ECMC physicians, dentists and pharmacists are dedicated faculty members of the university and/or members of a private practice plan. More Western New York residents are choosing ECMC for exceptional patient care and patient experiences—the difference between healthcare and true care™. For more information visit www.ecmc.edu.