Cancer Centers' New Radiology Information System Helps Streamline Clinical Workflow
Referring Physicians Gain Rapid Access to Radiology Reports for Timely Patient Care
ROCHESTER, N.Y., Aug. 6 — Rocky Mountain Cancer Centers of Denver, Colo., recently installed Carestream's newest generation of Vue RIS (radiology information system) to create a more streamlined clinical workflow that delivers most radiology reports within one to two hours to referring physicians. Urgent reports are delivered in as little as 10 to 15 minutes.
"Referring physicians appreciate our ability to deliver reports quickly. This equips them to talk to patients about diagnostic and treatment options in a timely manner, which may help reduce a patient's anxiety," said Elaine McDonald, the group's Director of Imaging Services.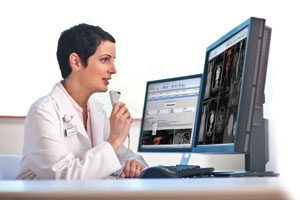 Rocky Mountain Cancer Centers provides comprehensive cancer care throughout Colorado with 58 physicians treating patients in 19 locations. The group offers CT and PET-CT imaging services at nine locations.
The group implemented the new RIS because it offers advanced features and excellent interoperability with other systems. "Vue RIS is interfaced with our PACS, EMR, patient scheduling system and several radiology groups that read imaging studies we generate. Physicians receive a notification in the EMR when radiology reports are available and they also can view imaging studies if desired," McDonald notes.
She commends the Carestream team for customizing the RIS to meet the cancer center's requirements. "The overall performance of the RIS is excellent and the customizations go a step further by saving time for radiologists, our staff and our patients," McDonald said.
RIS workflow improvements include customized tabs that allow technologists to input data related to the patient's current visit into forms that will be retained in RIS for use during subsequent visits. This creates a more efficient workflow. Additionally, a special tab shows prior studies that radiologists use for comparison when reading a patient's current exam.
Another customized feature is the ability to enter data from the form each patient filled out during the previous visit. This pre-populated form is given to patients for review. "Our patients love this. They can look at the form and note any changes. They don't have to fill out the entire form at each visit. This also saves time for our front desk staff that previously had to wait for patients to finish the form or coach patients through it," she explains.
Carestream's RIS implementation team also customized the list of tabs used by technologists, which makes it faster and easier for them to perform desired functions.
                                                                  ###
About Rocky Mountain Cancer Centers
Rocky Mountain Cancer Centers provides comprehensive cancer care throughout Colorado with 58 physicians treating patients in 19 locations. Our physicians are highly trained multi-specialists, who are board certified in internal medicine, hematology and oncology. They create customized treatment plans, utilizing the most advanced therapies for our patients. Our team of licensed oncology clinical social workers provides a safe, supportive and open environment to share feelings, learn coping strategies and explore ways to live as fully and joyfully as possible. They partner with patients and their families as they return to wholeness after cancer diagnosis and treatment. For more information visit www.rockymountaincancercenters.com.