Carestream to Show Broad Range of New Medical Imaging and Healthcare IT Products at Health-IT Expo 2015, Paris, France
New Systems and Enhanced Product Features Can Foster Collaboration among Physicians, Improve both Treatment for Patients and Efficiency for Hospitals
GENEVA, Switz., 15 May 2015 — Carestream will demonstrate new developments to its advanced imaging IT platform during HIT 2015, the leading French exhibition for healthcare technologies and information systems to be held from 19-21st May at Paris Expo, Pavilion 1, Porte de Versailles, Paris, France.
On the booth there will be a live demonstration of Carestream's new Clinical Collaboration Platform, designed to boost collaboration among clinicians, breaking down walls between ancillary departments, sites and networks and providing physicians with a single view of patient imaging records. This new healthcare IT platform employs Carestream's intelligent Vue Archive to archive and exchange clinical content in DICOM and/or non-DICOM formats. However, this platform goes beyond the traditional capabilities offered by a vendor-neutral archive (VNA) by embedding intelligent lifecycle management and meta-data management to intelligently manage multiple archives without costly replacement.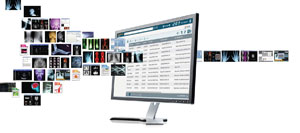 The Clinical Collaboration Platform enables healthcare providers to capture, archive, manage and distribute clinical data such as images, videos, photos and reports from different ancillary departments such as endoscopy and dermatology. This creates a patient-centric clinical record that complements the electronic health record. In addition, the Clinical Collaboration Platform also incorporates Carestream's MyVue patient portal that gives patients the ability to access, download and share securely their data and reports with physicians and specialists.
Together with their partners Sword and Ineo Digital, Carestream will also be demonstrating their new Portal for Telemedecine which offers healthcare providers in remote locations the opportunity to share images and consult with specialists in real-time, with excellent image quality and rapid transmission times. Practitioners can immediately assess a patient's condition to determine what type of care is required and if a patient needs to be urgently transported to the nearest hospital.
Finally, Carestream will celebrate a milestone for its fast growing Vue for Cloud services - the cloud infrastructure operated with two datacenters in France which is now securely managing more than 1 petabyte of data, with more than 100 healthcare institutions being connected by the end of 2015, making it one of the largest in the country and across Europe. The portfolio of cloud services continues to expand, now enabling teleradiology, image exchange and patient portals, in addition to neutral archive and PACS. Carestream will demonstrate a works-in-progress on-line booking service for patients with its partner RDVPS.