Arizona Hospital Purchases Seven Portable and Room-Based Digital X-Ray Imaging Systems from Carestream
Imaging Director Reports Carestream's DRX Systems Streamline Imaging Workflow, Provide Rapid Image Access
ROCHESTER, N.Y., May 5 — Yavapai Regional Medical Center (Prescott, Ariz.) purchased five CARESTREAM DRX-Revolution Mobile X-ray Systems and two CARESTREAM DRX-Evolution rooms to convert its hospital from computed radiography to wireless digital radiography. The 135-bed hospital conducted a thorough evaluation of systems from four suppliers prior to selecting Carestream as its supplier of choice. Two DRX-Revolutions will be located at its YRMC East Campus Hospital, a 50-bed facility.
"Converting from CR to DR represents a major investment in technology so it was imperative that we select systems offering excellent image quality, rapid image access and a streamlined imaging workflow," said Mary Sterling, the hospital's Imaging Director. "Carestream's DRX imaging systems exceeded our expectations in these areas and enabled us to set new exposure techniques that can reduce dose while delivering excellent image quality."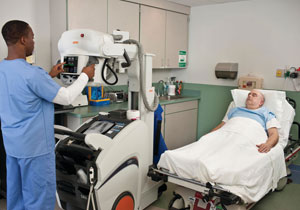 In addition to offering wireless access to images in seconds, the DRX-Revolution systems display each patient's previous image for technologists to review along with the current image. Since each DRX-Revolution can access the hospital's RIS (radiology information system), technologists can complete the study while they are at the patient's bedside. This capability makes images immediately available for quick transfer to a PACS for review by physicians and radiologists, she added.
"Many physicians rely on X-ray exams to make or confirm a diagnosis. So equipping physicians with immediate access to images helps contribute to faster treatment for many of our trauma patients," she explained.
A DRX detector is shared between one DRX-Revolution and one of the hospital's fluoroscopy rooms. "It's a tremendous advantage to be able to use any DRX detector in any DRX system and we appreciate the flexibility this provides," Sterling reports. "In addition to cassette-size DRX detectors, we also use a smaller DRX detector (25 x 30 cm) in the ER since it makes positioning easier for severely ill or injured patients."
One DRX-Evolution DR Room is equipped with a floor rail for the wall stand that enables technologists to quickly and easily move the stand's detector into position for cross-table lateral exams—while simultaneously streamlining the capture of all types of imaging studies. A second DRX-Evolution room is currently being installed. Both DR rooms serve the radiology department.
Carestream offers fully featured room-based and mobile DRX imaging systems that equip healthcare providers to easily and affordably upgrade existing film or CR systems to DR. Carestream's X-Factor design offers flexibility and redundancy by enabling each DRX detector to work with all other DRX systems within a provider's environment.
###
About Yavapai Regional Medical Center 
Yavapai Regional Medical Center (YRMC) was incorporated in 1942. The region's leading not-for-profit healthcare provider is a state-of-the-art healthcare system with two acute care hospitals, a network of primary and specialty care clinics, outpatient health and wellness centers, cardiac diagnostic centers, and outpatient medical imaging centers. Together YRMC's network of services provides medical care and wellness resources to a geographic area encompassing 5,500 square miles and covering the communities of Prescott, Prescott Valley, Chino Valley, Dewey, Humboldt, Mayer, Paulden, Bagdad, Yarnell, Kirkland, Skull Valley and Crown King. Yavapai Regional Medical Center healthcare system relies solely on patient revenue and community support for all of its funding and is guided by a community-based board of trustees. For more information visit www.yrmc.org/.