Advanced Native Vue Reporting Features a Top Performer at ISCT Workstation Face-Off
Carestream's Vue PACS Equips Radiologists with Access to Critical Images Directly from Report
ROCHESTER, N.Y., June 16 — Carestream showcased  the CARESTREAM Vue PACS workstation with streamlined reading, processing and reporting of imaging studies at the "Workstation Face-Off," which is part of the annual International Symposium on Multidetector-Row CT. The event, held recently in San Francisco, was hosted by the International Society of Computed Tomography (ISCT).
Competitors were challenged to demonstrate how workstations can augment diagnosis and communication with clinicians and patients. Carestream was able to demonstrate how its unified backend architecture, coupled with automated 3D processing and interactive reporting, improves the interpretation process, data exchange and collaboration between radiology stakeholders.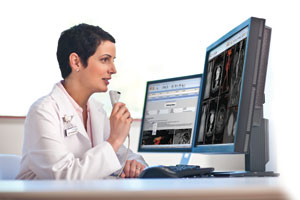 "Radiology is now focusing on value-based imaging so it was only appropriate for the organizers to feature the various communication tools," Cristine Kao, Carestream's Global Marketing Director for Healthcare Information Solutions. "Carestream has developed a radiology workspace that can elevate the value of the result through advanced processing and interactive reporting."
Carestream continues to be the only vendor with a PACS workstation that can complete all cases at the annual Workstation Face-Off. This year's cases included: carotid stenosis vs. occlusion; chest aortic coarctation; cirrhosis; radial artery occlusion; and sigmoid volvulus.
This year the radiologist reading exams on the Vue PACS workstation used Carestream's newest native Vue Reporting module. The module inserts interactive hyperlinks to images or tables that display key anatomical features directly from the report. "Interactive, multi-media reports, with live key images and hyperlinks to images and priors increase the value clinicians get from radiology reports and may shorten the time required to achieve patient treatment decisions," said Dr. Menashe Benjamin, Carestream's Vice President of Healthcare Information Solutions. 
Physicians view Carestream's latest version of Vue Reporting as an improvement over traditional text-only radiology reporting. Most indicate they would prefer to refer patients and peers to facilities that adopt interactive, user-friendly reporting practices, according to "Traditional Text-Only vs. Multimedia Enhanced Radiology Reporting (MERR): Referring Physicians' Perceptions of Value" presented at the 2014 Radiological Society of North America conference.
Throughout the cases, Carestream's Vue Reporting, Vue Motion and My Vue clearly boosted productivity by simplifying the collaboration and data exchange workflow.
Radiologist Orly Goitein, M.D., from Sheba Medical Center in Israel, presented cases for Carestream at the event.