ROCHESTER, N.Y., April 23 — The Johns Hopkins Health System (Baltimore, Md.) has purchased Carestream Health's Vue PACS which offers innovative radiology features that can further enhance the organization's ability to help deliver exceptional medical services for patients with a wide range of diseases.
The new PACS will support multi-site reading of medical imaging exams and sharing of diagnostic information to help physicians determine the best treatment path for each patient's condition. Vue PACS includes innovative tools to support physician segmentation and bookmarking of cancerous lesions and automatically register 3D imaging data sets (such as MR and CT) to help highlight subtle changes in anatomy and improve clinical collaboration. Vue PACS also can help optimize the reading of mammography studies including digital breast tomosynthesis exams, as it supports the reading of images from all breast imaging modalities on a single PACS workstation.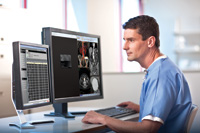 For more than a century, Johns Hopkins Medicine has been recognized as a leader in patient care, medical research and teaching. Today, this organization is known for its excellent faculty, nurses and staff specializing in every aspect of medical care. Johns Hopkins Medicine includes six academic and community hospitals, four suburban healthcare and surgery centers, more than 30 primary healthcare outpatient sites, as well as programs for national and international patient activities. The Johns Hopkins Hospital is the only hospital to have ranked #1 in the nation for 21 consecutive years by U.S. News & World Report. For more information, visit Johns Hopkins Health System at www.hopkinsmedicine.org.
Representatives and clinical staff of the Johns Hopkins Health System evaluated all major PACS suppliers and then conducted multi-week, on-site evaluations of multiple PACS that were ranked highest by the organization's selection team.
"Our latest PACS platform is designed to support large, multi-site reading environments and provide the advanced reading tools required by leading facilities like the Johns Hopkins Health System that deliver highly specialized care," said Diana L. Nole, President, Digital Medical Solutions, Carestream. "In addition, we have committed to developing the next generation of innovative radiology-based IT solutions to address the evolving needs of Johns Hopkins Medicine."
With Carestream's Vue PACS, the health system will be able to consolidate the reading of all imaging modalities onto a single platform, which can boost productivity while simplifying operations and support.    
The PACS initially will be used by The Johns Hopkins Hospital, Johns Hopkins Bayview Medical Center and two outpatient imaging centers. The health system will manage the PACS from its state-of-the-art data center at Mount Washington, Md., and imaging exams will be replicated and stored at a facility on its East Baltimore medical campus for disaster recovery.
                                                                  ###