University of Virginia Health System Representatives to Moderate Roundtable Discussion about Patient Portals at SIIM 2014
LONG BEACH, Calif., May 13 — Two representatives from the University of Virginia Health System (Charlottesville, Va.) will moderate a roundtable discussion called "Patient Portals and PHRs: Benefits and Challenges in Imaging Informatics" to be held during the 2014 meeting of SIIM (Society for Imaging Informatics in Medicine).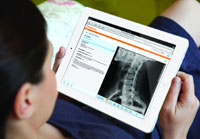 Cree Gaskin, MD, Associate Professor of Radiology, Medical Imaging and Orthopaedic Surgery and Vice-Chair of Informatics, and Daniel O'Malley, MS, Director of Informatics and Support Services, will moderate the session. It will take place on Friday, May 16, from 3:45 pm - 4:45 pm in Room 203A at the Long Beach Convention Center.
The discussion will include the benefits of patient portals as well as the challenges of implementation and decisions about access rules and limitations that may need to be considered by providers.
Epic MyChart is the University of Virginia Health System's primary patient portal but the organization recently implemented Carestream's MyVue patient portal, which offers patients convenient electronic access to their medical images.
To view information about Carestream products being demonstrated at SIIM or to make a booth appointment, please visit www.carestream.com/siim.
                                                                  ###