Thorek Memorial Hospital Integrates Carestream's Cardiology, Radiology PACS Platforms with a Vendor-Neutral Archive
Flexible Solution Expedites Workflow and Enhances Productivity While Helping Reduce Infrastructure Expenses
ROCHESTER, N.Y., March 26 — Thorek Memorial Hospital (Chicago, Ill.) has integrated Carestream's Vue for Cardiology PACS and Vue for Radiology PACS with Carestream's Vue for Vendor Neutral Archive (VNA) solution. The hospital also implemented Carestream's zero footprint Vue Motion enterprise image viewer that allows physicians to access imaging studies and reports from any location using laptops or mobile devices such as iPhone 4s, iPad 2, Galaxy Note® and Galaxy S® III mobile devices.       
"Carestream's cardiology and radiology PACS systems offer exceptional capabilities and reduce the need to have dedicated workstations and separate storage archives. Being able to integrate both PACS systems with a single vendor-neutral archive is also a significant advantage," said Peter Kamberos, the hospital's Chairman of the Board.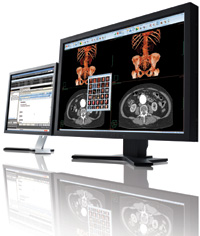 The hospital's Vue PACS includes a fully featured native voice recognition and reporting solution that allows remote reading by radiologists, which has expedited the delivery of radiology reports and helped eliminate outside transcription costs. The Web-enabled radiology PACS also offers advanced visualization, 3D post processing, and a module that allows mammography exams to be integrated into the general reading workflow.  
Vue Cardiology PACS supports the viewing and reading of echocardiography, cardiac catheterization, ECG, stress tests, Holter and nuclear cardiology studies from a single workstation. Having a single platform that allows reading of all cardiology exams—combined with structured reporting—has increased department efficiencies and streamlined the delivery of cardiology reports, according to Kamberos.
CARESTREAM Vue Archive is available as an on-site or cloud-based solution and allows data to be accessed by authorized users anywhere, anytime using Carestream's zero-footprint Vue Motion image viewer.       
###
iPad and iPhone are trademarks of Apple Inc., registered in the U.S. and other countries.
Note and Galaxy are trademarks of Samsung, registered in the U.S. and other countries.
About Thorek Memorial Hospital
Thorek Memorial Hospital is a 218-bed, not-for-profit, acute care facility that has been providing quality, progressive health care to Chicagoans since 1911, when Dr. Max Thorek founded the American Hospital—the forerunner to Thorek Memorial. With the recent addition of a 40,000 square foot professional building, a cardiac catheterization and special procedures laboratory, and a cancer center, the hospital is able to offer the unique characteristics and personal attention of a community hospital while providing a wide range of state-of-the-art medical, surgical, diagnostic and therapeutic services. For more information, please visit www.thorek.org.