The Mid-Yorkshire Hospitals NHS Trust, UK, Strengthens Existing Portfolio of Carestream's DR Systems
Trust Installs Six CARESTREAM DRX-Revolution Mobile X-ray Systems, Familiar User Interface Proves an Advantage
GENEVA, Switz., September 30 ― The Mid-Yorkshire Hospitals NHS Trust, consisting of Pinderfields, Pontefract and Dewsbury and District Hospitals, has installed six CARESTREAM DRX-Revolution Mobile X-Ray Systemsto help provide rapid access to high-resolution X-ray images for improved patient care. The units have replaced existing CR systems and are deployed at Pinderfields and Dewsbury and District Hospitals for use in ITU, ICU, respiratory wards, general surgical wards and resuscitation units. All six systems are equipped with high-resolution CARESTREAM DRX-1C cesium iodide detectors.
The Mid-Yorkshire Hospitals NHS Trust performs in excess of 200,000 general radiography examinations annually across its three hospital sites and it is anticipated that in excess of 7,500 of those will now be portable exams performed using the new DR mobile systems. Radiology staff across the Trust are familiar with Carestream's DR Systems as ten are already deployed, including six CARESTREAM DRX-Evolution DR Rooms. According to Radiology Services Manager at Pinderfields Hospital, Sue Robinson, previous experience has proved a great advantage. "The familiar user interface has been a great plus point for the team. During the period we had the equipment on trial we had some applications training and the staff were able to very quickly operate the equipment and manipulate images and to use it clinically on the wards. The feedback from staff on the ease of its use was great."
As direct replacements for existing CR radiography it is anticipated that dose reductions will also be achieved, both as a result of direct patient dose and as increased image quality will reduce the number of repeat exposures required. Carestream's specialised imaging software that uses a single exposure to display an enhanced companion image for a clear view of tubes and PICC lines, helps in this respect "The tube and line visualisation software is very easy to implement and provides an enhanced image for these examinations at the click of a button without any additional radiation dose to the patient.," commented Sue Robinson. "Initial impressions of the clinical staff are that visualisation is made easier, particularly in challenging viewing conditions such as those encountered on the wards."
Sue Robinson added that when trialling the DRX-Revolution, the team at Pinderfields Hospital were particularly impressed with the manoeuvrability, small footprint and visibility offered, saying, "The equipment is easy to manoeuvre and drive and the team thought the collapsible column was a great idea making  visibility when driving so much better and manoeuvring in small areas much safer."
Carestream believes its Service offering is also a key differentiator and as a long-term customer, radiology staff at the Mid-Yorkshire Hospitals NHS Trust appreciates the strong relationship that has been forged. "Our relationship with the Carestream service team is great. When logging faults or problems, the call centre is prompt and efficient and the engineers return your call to discuss the problem further and can often remotely log in and solve issues without having to visit," said Sue Robinson. "The engineers are very knowledgeable and keen to offer advice on how to improve use of the equipment. They communicate very well and in particular pass on all relevant information to staff and core trainers."
The CARESTREAM DRX-Revolution Mobile X-ray System is a versatile mobile X-ray system that features a small footprint, exceptional maneuverability, excellent image quality and wireless communication of medical exams.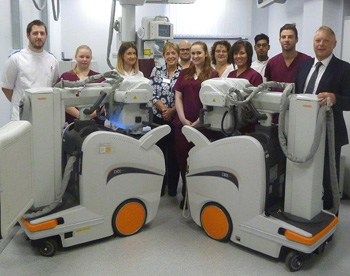 David Palmer, Rebecca Hill, Vicky Hall, Sue Robinson, Liam Taylor, Jessica Pool, Anne Gallagher, Emma Wharin, Tauseef Arifeen, Paul Ray (all from Pinderfields Hospital), Jonathan Atkinson (Account Manager, Carestream)