Spire Elland, UK, Upgrades to CARESTREAM DRX-Technology
GENEVA, Switzerland, May 27 ―Spire Elland, part of the Spire Healthcare group in the UK, has installed a CARESTREAM DRX-Evolution DR Room and a CARESTREAM DRX-Revolution Mobile X-ray System.
The 41-bed Spire Elland hospital has provided comprehensive private hospital services to patients from Halifax, Huddersfield, Dewsbury, Todmorden and surrounding areas in Yorkshire for over 27 years. It has two operating theatres, a two-bed high dependency unit and radiology services include X-ray, Mammography, MRI and CT.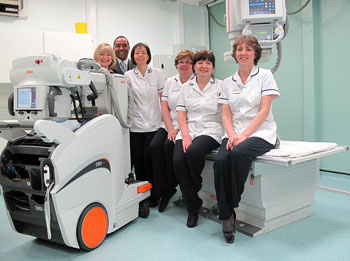 (l-r) Jane Grimsley, Marketing Manager, Carestream; Wayne Sharpe, Senior Account Manager, Carestream; Joanna Dedrick, Radiographer; Rebecca Littlewood, Radiographer; Lynn Sugden, Radiographer; Carol Johnson, Radiology Manager, all from Spire Elland Hospital.

Radiology Manager Carol Johnson explained the background to the decision to install the versatile DRX-Evolution room. "Our previous X-ray room used CR, but it was quite old and due for replacement. We decided to upgrade to a DR system and wanted equipment that was user friendly, particularly suited to high volume of orthopaedic cases, offering rise and fall, floating top table and auto positioning and was competitively priced. Switching to Carestream's DR has allowed us to manage patient flow through the department more efficiently and, being fully automatic, it has reduced moving and handling issues for staff."

Carol Johnson has also seen benefits for both clinicians and patients. "Now our clinicians don't have to wait as long for images to process and patients aren't moved from room to room whilst waiting for images to be checked. The rise/fall table has also been a godsend as regards patient accessibility and positioning."

The new installation also includes a CARESTREAM DRX-Revolution Mobile X-ray unit, which shares detector plates with the main room. "We had an aging but well-loved mobile which was due for replacement," explained Carol Johnson, "so we took advantage of being able to replace this at the same time as the X-ray room. Having equipment from the same manufacturer for the DR room and the DR mobile, with the same user interface, has meant that staff training and use of the equipment has been simplified and we are able to use the same detector plates across both the room and the mobile."

"We use the DRX-Revolution mobile for imaging ward patients who are unable to be moved to the department, and occasionally in theatres. The mobile is proving to be very easy to drive and manoeuvre and we hope to use it increasingly in the department as an extra piece of equipment on busy clinic days. The images are great and the clinicians on the wards and in theatres have been very impressed that they are able to view their patient's images immediately."

Carestream worked closely with the team at Spire Elland to achieve the best solutions for the department. "Installation and applications support went very smoothly," said Carol Johnson. "It was a turnkey project, and we also had excellent service from the pre-installation team at Modus.'

###