Rush Memorial Hospital Purchases Carestream's Vue PACS For Its Advanced Features, Physician Enterprise Image Viewer
CIO Says Reports with Links to Key Images and Easy Mobile Image Access Can Enhance Clinician Satisfaction
ROCHESTER, N.Y., June 17 — Rush Memorial Hospital (Rushville, Ind.) purchased a CARESTREAM Vue PACS with 3D Vessel Analysis, lesion management, Vue Motion image viewer and a mammography module for convenient mobile access by physicians. The hospital's IT and radiology staffs carefully evaluated leading PACS suppliers before selecting Carestream's offering.
Jim Boyer, the hospital's Chief Information Officer, is heading up the hospital's installation and integration of new EMR/RIS and PACS systems. "When testing the advanced clinical tools offered by Carestream's PACS, our radiologists said these features could enhance decision making and streamline the process of reading and reporting. In addition, the ability to embed links to key images in the report can enhance collaboration with clinicians," Boyer added.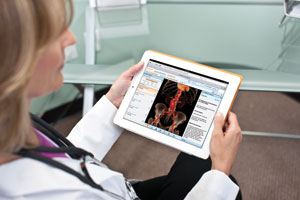 Boyer also contacted several hospitals in the area and got "excellent recommendations" for Carestream's PACS. "We always evaluate multiple suppliers for major investments, but I like to contact sites I know rather than a facility specifically recommended by the supplier. I believe this provides a more accurate representation of the user's experience," he said.
His goal is to implement healthcare IT systems that deliver enhanced capabilities for clinicians and interconnectivity with other systems to help improve patient care while addressing current and future Meaningful Use requirements. "As a critical access hospital, we evaluate critically ill or injured patients to see if they need to be transported to other facilities as part of the care we deliver to our patients. If patients need to be transferred to receive advanced trauma or escalated care, it is imperative that patient medical data including imaging studies and lab results is transferred electronically as well," he said. "We also provide full access to patients' medical records for local physicians and specialists."  
Boyer also coordinated the evaluation of image viewers from three suppliers. "The decision to go with Vue Motion was easy. It provided excellent image quality and functionality but was much easier to use than the other viewers. This viewer also will support use of mobile devices by our hospital's clinicians, orthopedic surgeons, referring physicians and other clinical users."
Carestream received fda clearance for use of its Vue Motion image viewer for clinical reading of medical X-ray exams using iPhone 4s, iPad 2, Galaxy Note® and Galaxy S® III mobile devices. 
Carestream Vue PACS offers reading tools such as MPR, MIP, MinIP, volume rendering, tissue definition, vessel tracking and cardiac analysis. An optional embedded lesion management application can simplify the comparison process between different data sets and supports oncology follow-up with bookmarking and tracking of general anatomy over time.
The Vue Mammo module equips radiologists to read mammography and general radiology procedures from any vendor on a single platform. Time-saving tools streamline the reading of mammography procedures while simplifying the comparison of prior studies.
                                                                  ###
About Rush Memorial Hospital
Rush Memorial Hospital (Rushville, Ind.) is a critical access hospital with a state-of-the-art emergency department and inpatient and outpatient services for key medical specialties including cardiac and cancer care, orthopedics, pediatrics, and rheumatology. For more information, please visit www.rushmemorial.com.