Presence Saint Joseph Hospital Adopts Carestream's Mobile, Room-Based DRX Systems to Advance Patient Care
Powerful Digital X-ray Systems Offer Excellent Visualization of Anatomy For Critical Care, Obese Patients
ROCHESTER, N.Y., June 24 — Presence Saint Joseph Hospital (Elgin, Ill.) installed a CARESTREAMDRX-Evolution Standard-Q configuration and a CARESTREAM DRX-Revolution Mobile X-ray System to enhance speed and image quality for inpatient, emergency, and outpatient imaging exams performed at its 184-bed facility. The quality, safety and access benefits of these systems appeal to both clinicians and patients.
"X-ray image quality is significantly improved for our patients with this conversion, which lowered radiation dose by up to 30 percent. In addition, our radiologists and physicians report that the exceptional visualization of anatomy has helped improve care for all our patients, especially critical care and large or obese patients," said Sandy Lancaster, CRA, ARRT(R), the hospital's manager of medical imaging.
"The use of advanced digital imaging systems also reduced our rate of repeat X-ray exams as the original image consistently provides the diagnostic information that helps enable our radiologists and physicians to make an accurate diagnosis," Lancaster reported.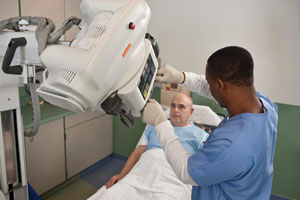 In addition to general radiology exams, the DRX-Evolution Standard-Q configuration also performs outpatient exams since it is close to the hospital's outpatient imaging center. The mobile DRX-Revolution is used in the ER, ICU and surgical suites in addition to capturing bedside inpatient exams.

"The DRX-Revolution is used all day throughout the hospital because it delivers immediate image access and excellent image quality, which are especially important for critical care and emergent exams," Lancaster explained. "Carestream's advanced imaging software also enhances visualization of tubes and lines as well as pneumothorax (free air in the chest cavity), which equips our physicians to make rapid decisions in critical care situations."

She added that the DRX-Evolution Standard-Q configuration has helped the hospital's staff achieve its goals of faster image access and higher image quality at an affordable price. The digital imaging suite, which features an overhead tube and a non-motorized wall stand and table, is used by hospitals around the world.

The CARESTREAM DRX-Revolution Mobile X-ray System features exceptional maneuverability and excellent image quality. Carestream's X-Factor design offers flexibility by enabling each DRX detector to work with all other DRX systems within a provider's environment.
                                                                  ###
About Presence Saint Joseph Hospital
Presence Saint Joseph Hospital in Elgin, Ill., is known for providing leading-edge technologies and holistic care with compassion for the individual. We offer a comprehensive range of high quality preventive, diagnostic and therapeutic services including acute inpatient care, outpatient care, home health, and educational outreach programs. Advanced care services include a nationally recognized cardiac program, certified Primary Stroke Center, accredited regional cancer care center, orthopaedic and interventional radiology services and a comprehensive rehabilitation center with a CARF-accredited inpatient unit. PSJH is a part of Presence Health. For more information, visit www.presencehealth.org.