Carestream's New Motor Assist Feature for Fully Automated DRX-Evolution Systems Can Help Minimize Operator Fatigue
Flexible New Feature Now Shipping for Automated DRX-Evolution Orders Worldwide; Company to Spotlight DRX Portfolio at Upcoming AHRA Conference
WASHINGTON, D.C., Aug. 4 — Carestream has added a Motor Assist feature to its fully automated CARESTREAM DRX-Evolution DR Room that allows operators to manually move the overhead tube with assistance from the system's motors. This capability is now shipping as a standard feature with all new orders for fully automated DRX-Evolution systems worldwide.
"There are many situations where technologists need to manually move the overhead tube into position for an X-ray exam. This new feature activates the motors to help provide power during tube positioning that can help reduce technologist fatigue," said Helen Titus, Carestream's Marketing Director of X-ray Solutions. "This feature provides smooth acceleration, deceleration and braking—all under the control of the operator."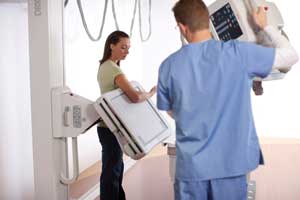 A three-tiered level of motor assistance is set by the operator—from no assistance to low or high assistance. Titus notes that this feature is another example of Carestream's leadership in providing optimized performance and flexibility for its DRX-Evolution platform.
Field upgrades will be available for fully automatic DRX-Evolution systems that are already installed.
DRX-Evolution Platform Offers Modular Components
The CARESTREAM DRX-Evolution is a versatile digital radiography system that can perform a wide range of general radiographic exams with remarkable convenience, productivity and patient comfort. The DRX-Evolution platform offers modular components and healthcare providers can choose from three configurations: Fully Automated, Hybrid and Standard-Q.
The DRX-Evolution platform supports a choice of three DRX detectors, including two cesium iodide detectors (35 x 43 cm and 25 x 30 cm) for high-quality imaging. For maximum productivity, the DRX-Evolution can be configured with a detector in the wall stand and a second detector that is used for table Bucky and tabletop exams.
Carestream's X-Factor design enables each DRX detector to work with all other DRX systems within a provider's environment.