MSC Cruises Benefit From Collaborative Agreement Between Carestream Health and Italy's Gaslini Institute
Cruise Line Becomes First to Offer 24/7, On-Board Pediatric Telemedicine Service
GENEVA, Switzerland, Oct. 21 ― MSC Cruises has become the first cruise line to offer a 24/7, multilingual pediatric telemedicine service on board its entire fleet thanks to an agreement with the renowned Instituto Giannina Gaslini Children's Hospital in Genoa, Italy.
As part of this collaborative effort, Carestream will be providing a cloud-based teleconsultation portal to enable the Institute to deliver remote diagnosis, second opinions from specialists, patient monitoring and referrals wherever needed at any time.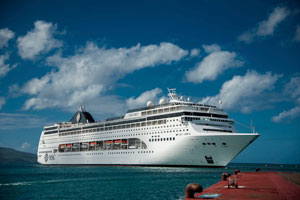 The cruise line will use the Carestream portal across its fleet to enhance on-board medical response and deliver diagnosis and therapeutic functions previously only possible on land. The link works via satellite communications and will be available on all MSC cruise itineraries anywhere in the world.
"MSC Cruises is a family-owned company and we strongly believe in caring for the health and safety of our guests on board, with particular attention to younger travelers who can require specialized treatment that is different from other age groups," said Gianni Onorato, CEO of MSC Cruises. "We're really excited about this collaboration, which is particularly important to our family cruises throughout the world."
Based on Carestream's Vue for Vendor Neutral Archive (VNA) and Vue Motion viewer, the teleconsultation portal will enable the Institute to capture and view different file formats using a zero-footprint platform that does not require local software installation.
"The expertise of our specialists is being made available beyond the walls of the Gaslini," said Paolo Petralia, the Director General of the Gaslini Institute. "This enables doctors on the ship to confirm their diagnoses and treatments using a cutting-edge system of remote image and data transmission. This reaffirms the Gaslini Institute's commitment to offer the best care everywhere while developing the most advanced and efficient means of information technology."
The process of teleconsultation, from request to final response, is managed through Carestream's Cloud-Based Services. The applicant connects to the secure web portal and once logged in, can enter their request enclosing relevant diagnostic images, reports, videos or any other multi-media documentation. This intuitive portal does not require support on site and is easy to learn, which facilitates quick adoption by the staff on board. The medical specialist at the Gaslini Institute automatically receives an email notification and connects to the portal to view the request and provide medical advice. The applicant is then notified of a response via email, and can view and download the response by accessing the web site.
"From the request for consultation to the generation of the opinion, the process operates entirely online, respecting the highest security standards," said Fabio Tigani, Carestream's Business Development Manager for IT, Southern Europe. "Teleconsultation is an innovative area where we are developing rapid advances. Carestream technology is ready to support projects in this direction, as in the case of the Gaslini Institute. We have worked effectively with their medical and technical staff, providing both expertise and resources via our Technical and Innovation Centre based in Genoa."
For more information on Carestream please visit www.carestream.com. Carestream will be demonstrating its latest medical imaging and healthcare IT solutions at Booth #4735 at the annual Radiological Society of North America (RSNA) conference in Chicago from Nov. 30 – Dec. 5. To make a booth appointment, please visit www.carestream.com/rsna.