Carestream's Image Acquisition/Mini-PACS Software Supports Image Viewing on iPad Mobile Devices for Veterinary Market
New Tablet Viewer Option Can Help Enhance Care at Veterinary Practices; Displaying Images Helps Owners Understand Their Pet's Condition
ROCHESTER, N.Y., May 15 — Carestream's newest version of Image Suite Software now supports viewing of X-ray images on iPad mobile devices for veterinary practices across the globe. Users of Carestream's latest version of Image Suite Software can add the Tablet Viewer Option, while users of previous generations of Image Suite software can upgrade to the newest software to gain access to the Tablet Viewer and other advanced features.
Image Suite delivers a flexible image acquisition, processing and storage platform that supports Carestream's wireless DRX-1 systems as well as CR imaging systems and an optional mini-PACS. Image Suite offers Web-based patient scheduling, image review and reporting and flexible archiving solutions. This versatile offering is ideal for veterinary practices and veterinary surgical and specialty centers.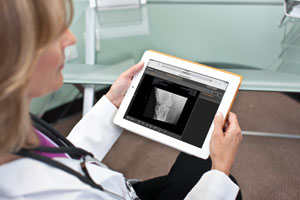 "With the Tablet Viewer, consultations can be more personal since owners will be able to see evidence of their pet's disease or condition on X-ray images as the veterinarian is explaining diagnosis and treatment options," said Heidi McIntosh, Carestream's Global Marketing Manager for X-ray Solutions.
Veterinarians can also view patient images from home or any remote location on iPad 2 mobile devices by logging into their mini-PACS system.  
Carestream's Image Suite 4 veterinary software contains order entry screens for breed, species and other identifiers. Veterinary reference images provide guidelines for positioning. A customized database delivers specific processing parameters based on species, breed, body part and views. In addition to basic tools like ruler, angle and zoom, Carestream's software offers advanced veterinary measurement tools designed for hip dysplasia, VD thorax, vertebral scale measurement, tibial advancement and laminitis.
Veterinarians currently using film-based systems can easily transition to Carestream's Vita CR System or DRX-1 systems. Practices with CR systems can gain higher image quality and faster image access by replacing CR cassettes and screens with a wireless DRX detector. The company's CR cassettes and screens come in eight sizes and veterinarians also have a choice of three DRX detectors.
                                                                  ###
iPad is a trademarkof Apple Inc., registered in the U.S. and other countries.