First for Gateshead Trust With Order for CARESTREAM Vue Ris and CARESTREAM Vue Pacs
LONDON, Jan. 30 - One of the first Foundation Trusts in the UK, Gateshead Health NHS Foundation Trust, located in the North East of England, has ordered a new CARESTREAM Vue RIS and CARESTREAM Vue PACS system with an initial seven year support package. The Trust, centred on the Queen Elizabeth Hospital, Gateshead, is the first in the north east of England to purchase such new systems using the NHS Supply Chain Framework Agreement. The Radiology department based at Queen Elizabeth Hospital currently performs around 170,000 examinations a year and Radiology IT Systems Manager, Clare Jones expects to see improvements in workflow and data quality from the new RIS/PACS.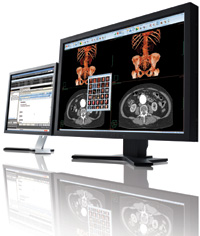 'The Carestream Vue RIS and Vue PACS will replace separate systems,' she explained. 'With both existing contracts coming to an end, the Trust was keen to install a fully integrated solution that was fit for purpose and value for money. In addition to our detailed functional requirements we required a solution that would be delivered and supported by the solution provider and not a third party.' Clare went on: 'the new RIS/PACS needed to be fit for purpose, enable greater efficiencies and improvements to patient care and offer overall value for money. In the end, Carestream's solution and service delivery was the best match for our requirements.'
The new web-enabled CARESTREAM Vue PACS will provide fast and easy access to the clinical tools and applications the radiologists at Queen Elizabeth Hospital will need, integrated into one efficient workspace, while the CARESTREAM Vue RIS will improve workflow by automating the patient's diagnostic journey from order entry to results distribution. The web-based radiology information system is designed to adapt to the needs of multi-site hospitals and will be accessible across the Trust.
####