ROCHESTER, N.Y., Feb. 18 — Carestream Health has received FDA clearance for use of its Vue Motion image viewer for clinical reading of medical X-ray exams using iPhone 4s, iPad 2, Galaxy Note® and Galaxy S® III mobile devices.  
"This clearance allows physicians and specialists to read—not just view—medical images on Apple and Samsung mobile phones and tablets. Diagnostic review of X-ray images with mobile devices can expedite patient treatment decisions and enable better collaboration, which can ultimately help enhance patient care," said Neville Skudowitz, Carestream's Global Product Director for Healthcare Information Solutions. "Carestream is the first enterprise-level healthcare IT supplier to receive its FDA clearance for image reading on more than one mobile platform and operating system."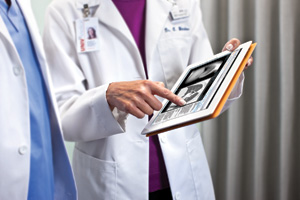 Carestream's development of zero footprint technology complements the "Bring Your Own Device" enterprise strategy that enables flexible data access by end users. Combined with DICOM including native 3D server-side rendering as well as non-DICOM display, Vue Motion is well positioned as a universal clinical viewer.
Carestream recommends that during diagnostic image review, frequent and concurrent usage of Vue Motion viewing tools (such as zoom, pan, and window level adjustments) be used. This will help maximize image contrast and detail sharpness of each image displayed using Vue Motion on portable and mobile devices. Caution should be taken while viewing CR and DR images to ensure optimal contrast and detail sharpness.
Carestream experts will discuss Carestream's Vue portfolio of healthcare IT solutions at the upcoming HIMSS 2014 conference that will be held Feb. 24-27 at the Orlando Convention Center, Orlando, Fla, please visit www.carestream.com/himss.
                                                                        ###
iPad and iPhone are trademarks of Apple Inc., registered in the U.S. and other countries.
Note and Galaxy are trademarks of Samsung, registered in the U.S. and other countries.