El Camino Hospital Installs Five Carestream DRX Imaging Systems To Perform Portable X-ray Exams at Two Hospitals
Carestream Systems and Specialized Software Equip Hospital to Help Reduce Dose for Pediatric and Adult Patients
ROCHESTER, N.Y., May 21 — El Camino Hospital installed three CARESTREAM DRX-Revolution Mobile X-ray Systems and two CARESTREAM DRX-Mobile Retrofit Kits to equip its campuses in Mountain View and Los Gatos, Calif., with rapid access to high-quality portable exams. All DRX-Revolution and retrofitted systems are equipped with high-resolution, wireless CARESTREAM cesium iodide detectors.
At the hospital's Mountain View campus one DRX-Revolution is dedicated to the neonatal ICU and two DRX-Revolution systems capture up to 90 images a day in the ER and OR as well as for bedside inpatient exams. The Los Gatos facility retrofitted two existing portable systems with wireless DR detectors and these systems perform about 60 general X-ray exams in all areas of the hospital.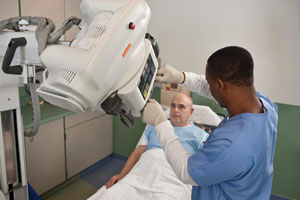 The radiology department selected the DRX-Revolution because of its innovative hardware and software features. "In addition to a collapsible column, motorized driving, better maneuverability and a host of other features, one of the key factors in our decision was the system's powerful 32kW generator," said Howard Sanford,RT (R) (MR),El Camino Hospital's Imaging Operations Manager.
"This generator makes it possible to produce better image quality for thicker body parts, such as abdominal exams and lateral lumbar spines, because it can capture these exams with shorter exposure times. Shorter exposures can also reduce patient radiation dose and help eliminate patient movement," he explained.
Both sites also use Carestream's imaging software that offers enhanced visualization of tubes and lines as well as pneumothorax (free air in the chest cavity). The DRX-Revolution in the NICU uses the small-format CARESTREAM DRX 2530C detector that fits into a tray located under each incubator.
"It's important to avoid moving these babies because they are linked to tubes and lines that can be dislocated. We also don't want to expose them to ambient air or cause additional stress," Sanford added. 
Carestream's pediatric software offers optimized image processing for seven different pediatric weight/age categories that are linked to exposure techniques. This software uses the IEC standard exposure index feature to help technologists verify that each exam is within acceptable range prior to capturing the X-ray image.
CARESTREAM DRX-Mobile Retrofit Kits allow hospitals to upgrade existing CR-based portable units with wireless DR detectors that can deliver higher quality, lower dose and improved productivity. The CARESTREAM DRX-Revolution Mobile X-ray System is a versatile mobile X-ray system that features a small footprint, exceptional maneuverability, excellent image quality and wireless communication of medical exams. Carestream's X-Factor design offers flexibility by enabling each DRX detector to work with all other DRX systems within a provider's environment.
                                                                  ###
About El Camino Hospital
El Camino Hospital is an acute-care, 443-bed, nonprofit and locally governed organization with campuses in Mountain View and Los Gatos, Calif. In addition to state-of-the-art emergency departments, key medical specialties include neuroscience, heart and vascular, cancer care, urology and men's health, orthopedic and spine, behavioral health, genomic medicine, and the only Women's Hospital in Northern California. The hospital is recognized as a national leader in the use of health information technology and wireless communications, and has been awarded the Gold Seal of Approval from The Joint Commission as a Primary Stroke Center as well as back-to-back ANCC Magnet Recognitions for Nursing Care. For more information, please visit http://elcaminohospital.org.