Carestream DRX-Evolution Gives the Foscote Hospital Added Functionality at a Competitive Price
Banbury, Oxfordshire, July 2014 — The Foscote Hospital in Banbury, Oxfordshire has installed a CARESTREAM DRX-Evolution Standard-Q Room and a CARESTREAM DRX Mobile Retrofit unit complete with two DRX detectors. Opened in 1981, The Foscote Hospital is a Charitable Trust serving patients in Banbury and the surrounding areas of Northamptonshire, Warwickshire and Gloucestershire.  The hospital offers surgical and medical treatments for private patients and specific procedures for the NHS. The Radiology department provides all diagnostic, general and fluoroscopy examinations with reports available to referrers within 24 hours.
The Carestream DRX-Evolution Standard-Q configuration, the first to be installed by a private hospital, was funded by a donation from the Adams Legacy. It is a complete non-motorised, overhead-tube digital-imaging suite that allows an upgrade to high-performance DR capability at an affordable cost. Its flexible, versatile design and modular components have allowed the Radiology specialists at The Foscote Hospital to create a scalable system to suit their budget, space and workflow. Radiology Manager Suzanne Smith explained: 'The Standard-Q configuration was selected as it provided all the functionality that we needed but was extremely competitively priced for the type of equipment offered'.
Paired with the mobile units and wireless, portable DRX-Detectors, the DRX-Evolution system handles the full range of general radiographic exams with increased productivity and economy. 'The main difference is that we will no longer have to use a darkroom and film with cassettes,' explained Suzanne. 'The image quality is excellent and the main benefits for the patients are the quality and speed with which images are viewed'.
'The Carestream DRX Mobile Retrofit will enable us to have a second wireless detector on site which can be transferred between the AMX4 mobile and the X-Ray room,' continued Suzanne. 'It means that the mobile can also be used as a backup unit for x-rays as well as being used in theatre and on the ward. Images can be obtained and viewed very quickly rather than having to use cassettes with x-ray film which had to be processed in the darkroom. The image quality is excellent for both the Standard Q and AMX4/Retro kit. Being able to digitally enhance the images reduces the number of images that need to be repeated and the quality of the images is appreciated by both Consultants and Radiologists.'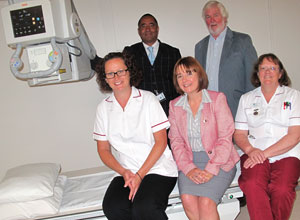 (l-r) (standing) Wayne Sharpe, Key Account Manager, Carestream; David Budd, Chairman of Trustees, The Foscote Hospital; (seated) Roisin Connolly, Radiographer; Ruth Thompson, Hospital Manager; Suzanne Smith, Radiology Manager (all from The Foscote Hospital)