Carestream's DRX-Evolution DR Room is High-Volume Hub for General Radiology Exams at Metroplex Adventist Hospital
ROCHESTER, N.Y., May 6 — A new CARESTREAM DRX-Evolution DR room is the main hub for all general radiology exams at the 232-bed Metroplex Adventist Hospital (Killeen, Texas). Randy Hill, the hospital's Director of Radiology, selected the DRX-Evolution after seeing demonstrations of several suppliers' room-based DR systems at RSNA and reviewing independent reports issued by KLAS, MD Buyline and ECRI.
"We had a CR system but when our volume in this room doubled to 1,000 exams a month, we needed a fully featured DR room that could efficiently perform any type of imaging exam and delivered outstanding reliability," Hill said.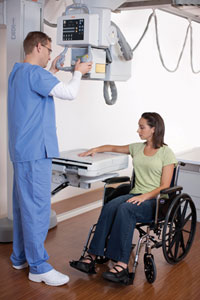 "Since this room is so critical to our workflow, I carefully researched user feedback on DR rooms from KLAS, MD Buyline and ECRI Institute reports in addition to attending demonstrations of several leading DR systems. The DRX-Evolution quickly became my first choice," he added.
The hospital's DRX-Evolution has both a wall stand and elevating table and is equipped with a high-resolution, cesium iodide CARESTREAM DRX-1C Detector. The system performs cross table, spine, long length, extremity, chest, abdomen and other general radiology exams.
The hospital's sudden increase in volume is due to discharged veterans with active duty injuries who are being referred by the Veterans Evaluation Board. These veterans account for 500 imaging studies a month. Killeen is home to Fort Hood, the largest active duty armored post in the U.S. Armed Services, which houses two full divisions, the 1st Cavalry Division and 4th Infantry Division (Mechanized) and supports 12 additional units. There are more than 41,000 soldiers stationed at Fort Hood.
"We are pleased with all aspects of implementing the DRX-Evolution, from the installation and training to ongoing support that is just a phone call away. Every member of Carestream's team has been knowledgeable and helpful," Hill reported.
The hospital performs 90,000 imaging exams a year and its radiology department has two fluoroscopy imaging rooms in addition to its general radiology room.
The DRX-Evolution DR Room is a versatile digital radiography system with modular components that are configured to address users' space, workflow and budget requirements. The overhead tube offers convenience and efficiency and images are ready for viewing on the console in seconds. A wireless DRX detector provides cordless positioning freedom. One space-saving console controls all medical imaging functions and flexible hardware and software options boost productivity.
For more information about Carestream medical imaging and IT solutions please visit www.carestream.com.
                                                                        ###
About Metroplex Adventist Hospital
Metroplex Health System is the primary healthcare provider for West Bell, Coryell and Lampasas counties and serves more than 125,000 patients per year, with more than 300 physicians offering 43 medical specialties and a variety of wellness services. The 232-bed, multi-campus facility is a faith-based health organization operated as a community service by the Adventist Health System and Scott & White Healthcare. Adventist Health System manages 45 hospitals, employs nearly 70,000 people and serves more than 4.5 million patients annually. Scott & White Healthcare is one of the nation's largest multi-specialty group practice systems with more than 700 physicians and scientists. For more information, visit http://www.mplex.org.