Carestream DRX-Revolution Makes A 'Big Impact' At North Tyneside
Tyne and Wear, U.K.,  July 2014 - North Tyneside General Hospital, largest of three district general hospitals within Northumbria Healthcare NHS Foundation Trust, has installed a CARESTREAM DRX-Revolution Mobile x-ray unit for mobile imaging in departments throughout the hospital, including Emergency Care, ITU and Paediatrics and across both medical and surgical wards.
Northumbria Healthcare NHS Foundation Trust manages hospital services across Northumberland and in North Tyneside. North Tyneside hospital has a 24 hour A&E department together with a wide range of diagnostic testing and outpatient clinics covering a range of specialties. The Radiology Department carries out around 2390 mobile examinations each year.
'We had several DR mobiles on trial before purchase and the Carestream Revolution was by far the most popular,' said Debbie Henderson, Site Lead Radiographer at North Tyneside hospital. 'We had only used traditional mobile units before, which were manual and heavy,' she went on, 'so the ease of manoeuvring and driving the Revolution was a big factor in our choice. Also the turning circle on the Revolution allows easy manoeuvring in tight spaces, which is a great benefit when working in cubicles in ITU etc. The radiographers particularly like the feature of the column retracting when driving to allow good visibility.
'We have CARESTREAM DRX-Evolution rooms at both North Tyneside and Wansbeck hospitals,' said Debbie, 'so the Revolution user interface was already familiar to staff, which helped to reduce training and we can maximise the use of the DRX detectors.'
The CARESTREAM DRX-Revolution Mobile X-ray System is powered by a wireless DRX detector to enable faster and better mobile imaging and doing away with the need to process CR cassettes in a separate processing area by delivering the x-ray image wirelessly to the PACS from the patient's bedside.
'The images are of the same high quality as those in the DR room' said Debbie, 'and the benefits to the clinical staff are huge; accessing images immediately allows faster diagnosis and therefore better outcomes. Also, if the examination is for a tube or line placement check it can be adjusted and a repeat film taken there and then, which saves a lot of time.
'Radiographers particularly love the Revolution as it saves time walking backwards and forwards to process images in the traditional way and you can image multiple patients.. For a small piece of equipment it has had a big impact on the department.'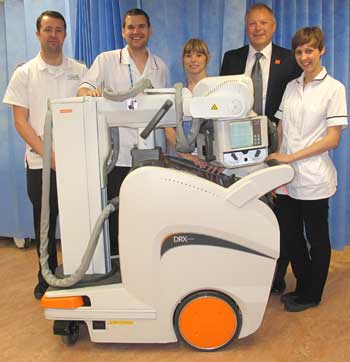 (l-r)  Chris Murray, Student Radiographer; Stephen Ridley, Radiographer; Kelly Gribbon, Trust Lead Radiographer (all from North Tyneside Hospital); Jonathan Atkinson, Carestream Key Account Manager; Lauren Maxey, Radiographer (North Tyneside Hospital)