Carestream Demonstrates New Healthcare IT Solutions for Streamlining Enterprise-Wide Data Management at SIIM 2014
Company's IT Platforms Allow Healthcare Providers to Access Data from Existing Departmental Systems to Avoid Replacement Costs
LONG BEACH, Calif., May 7 — Carestream will discuss its latest generation of powerful new Vue healthcare IT solutions that equips IT managers to streamline user access, sharing and management of images across the enterprise at the upcoming SIIM conference.
"Healthcare organizations are purchasing vendor-neutral archives to help expedite the management of images created by multiple departments," said Cristine Kao, Carestream's Global Marketing Director for Healthcare Information Solutions. "We go much further by pairing our innovative Vue for Vendor Neutral Archive that can manage diverse forms of data with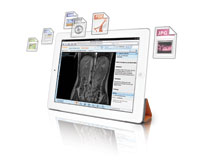 Vue Connect technology that allows providers to continue using their existing PACS and other departmental systems as part of their enterprise workflow."
Implementing a new vendor-neutral archive that accesses data from existing departmental platforms can achieve consolidation and streamline management while reducing expenses.   
Carestream's Vue Connect technology allows IT managers to easily add new sites and synchronize all sites regardless of vendor platform, age, location or network speed. Management of multiple patient IDs is handled through use of IHE profiles. This technology is an ideal solution for healthcare providers of all sizes, from imaging centers and small hospitals to large multi-site healthcare systems.