Carestream Announces Three-Year Sponsorship of SPIE Student Papers
ROCHESTER, N.Y., Feb. 13 — Carestream Health announced a three-year sponsorship of the Physics of Medical Imaging Student Paper Awards held at each annual SPIE Medical Imaging Conference. The 2014 conference will be held Feb. 15-20, in San Diego, Calif. Carestream's sponsorship will be used to support monetary prizes given to students whose papers place first and second in the meeting's competition.           
SPIE is the international society for optics and photonics. Their medical imaging conference brings together the most innovative minds in: medical imaging system development; image processing; PACS and imaging informatics; computer-aided diagnosis; image-guided procedures, robotic interventions and modeling; biomedical applications and molecular, structural, and functional imaging; ultrasonic imaging; and tomography and digital pathology.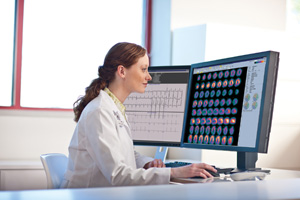 "Medical imaging has made impressive strides to help enhance the ability to detect, diagnose and treat a wide variety of diseases, and the SPIE conference is one of the world's premier meetings for the presentation of the newest technologies in this field," said Helen Titus, Carestream's Worldwide Marketing Director of X-ray Solutions. "We offer sponsorships to help encourage the next generation of researchers who will create new technologies and advance existing methods for diagnosing and treating a wide range of medical conditions."