AnMed Health Installs 15 DRX Imaging Systems Over Five Years; Radiology Manager Says Systems Have "Outperformed Expectations"
Health System Retrofitted Existing Mobile and Room Imaging Systems, Also Installed DRX-Revolution Mobile X-ray Systems and DRX-Evolution DR Room
ROCHESTER, N.Y., July 8 — Radiology managers at AnMed Health System (Anderson, S.C.) attended one of the first demonstrations of the DRX-1 detector—and AnMed Health        became one of the first healthcare providers to install the innovative new technology. In the past five years, AnMed Health has retrofitted nine X-ray rooms and three mobile imaging systems with DRX detectors and installed two CARESTREAM DRX-Revolution Mobile X-Ray Systems and a dual-detector CARESTREAM DRX-Evolution DR room.
"Carestream was ahead of the curve when they introduced the concept of the DRX detector and they have stayed at the forefront of technology by continuing to introduce new systems, new detectors and new software for the DRX family," said Cathy Atkins, RT (M), Radiology Manager for AnMed Health. "At first we thought the capabilities were too good to be true, but I am happy to report the DRX systems have outperformed our expectations."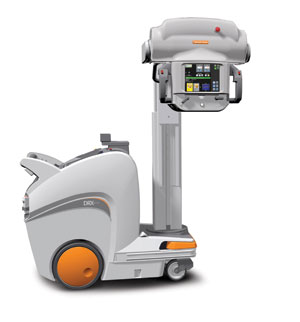 Carestream worked with the hospital's radiologists and managers to set protocols, so image quality and presentation are consistent across every DRX imaging system. "Image consistency is extremely important to our radiologists and physicians," she added.
These systems also address the challenges of mobile imaging. "DRX systems enable our staff to deliver mobile images that are the same high quality as those captured in an X-ray room.  Since mobile images are often conducted for critically ill or injured patients, having excellent image quality is essential to achieving the highest level of patient care," Atkins explains.
One DRX-Revolution system serves the ED and the other DRX-Revolution performs exams in critical care areas at the Main Campus of AnMed Health. "The DRX-Revolution is another example of Carestream's innovative design. The collapsible column makes the machine much safer and easier to drive, and the positioning flexibility of the extendable tubehead helps our technologists capture excellent images of critical care patients in crowded conditions where we cannot move the patient or the bedside systems," she said.
Atkins also praises Carestream's X-Factor, the ability to interchange any detector with any DRX system. "Being able to use any detector in any system is one of the greatest features of the DRX family. This flexibility allows us to optimize utilization of our detectors across multiple systems and continue imaging if a detector becomes damaged."
For example, the AnMed Health Main Campus shares a DRX detector between two trauma rooms in the ED. "When we have a large number of patients coming in at one time, we simply borrow a detector from another system so we can expedite these emergency cases," she explains.
A dual-detector DRX-Evolution with a wall stand and elevating table is located in the main radiology department and captures a wide range of imaging exams. AnMed Health's radiology department conducts 27,000 portable exams a year and the AnMed Health system performs 93,000 radiology exams annually.
                                                                  ###
About AnMed Health
AnMed Health is a 690-bed, not-for-profit health system serving upstate and northeast Georgia. The system is anchored by AnMed Health Medical Center, a 461-bed acute care hospital. AnMed Health also has a satellite North Campus which includes the AnMed Health Women's and Children's Hospital, the AnMed Health Rehabilitation Hospital, a comprehensive Cancer Center, physician offices and the Cardiac and Orthopedic Center. The health system's network also includes affiliations with Cannon Memorial Hospital in Pickens, Elbert Memorial Hospital in Elberton, Ga., and Carolinas HealthCare System in Charlotte. With roughly 500 physicians and more than 3,600 employees, AnMed Health is Anderson County's largest employer. Learn more about us online at www.AnMedHealth.org.