Carestream Vue PACS Workstation's Advanced Measurement Features, Native Reporting Shine at ISCT Workstation Face-Off
Vue PACS Offers One Workspace for Reading of Multiple Modalities with 3D Measurements, Bookmarking and Reporting Tools That Can Save Time
ROCHESTER, N.Y., June 12 — Carestream showcased the ability of its CARESTREAM Vue PACS workstation to support streamlined reading, processing and reporting of imaging studies from multiple modalities at the "Workstation Face-Off," which is part of the annual International Symposium on Multidetector-Row CT. The event was held June 11 in San Francisco. It was hosted by the International Society of Computed Tomography (ISCT).
"Each year this event pushes the envelope by providing more difficult cases that must be diagnosed and reported in a very tight time frame," said Cristine Kao, Carestream's Global Marketing Director for Healthcare Solutions. "This challenge spotlights Carestream's ongoing commitment to develop innovative reading and reporting capabilities as well as new ways to exchange information with clinical users and patients. This elevates the value of radiology for the enterprise and delivers clinical insights that can be shared with all caregivers."
Carestream continues to be the only supplier that can use a PACS workstation to complete all the cases at the annual Workstation Face-Off. "Creating the report at the PACS workstation while automatically inserting analysis and measurements enables enhanced accuracy and time savings for radiologists who use these tools regularly across the globe," said Dr. Menashe Benjamin, Carestream's Vice President of Healthcare Information Solutions.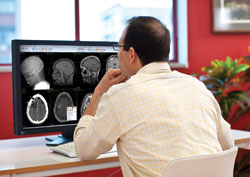 This year's cases included: following a lesion in the abdominal wall across four time points based on two PET-CT and two CT studies; segmenting two lesions in the liver and segmenting the whole liver into nine segments according to the Bismuth classification; providing a set of measurements from a CT scan to plan a transcatheter aortic valve replacement; and highlighting multiple rib fractures of a man severely injured in a motor vehicle accident.

Radiologist Michalle Soudak, M.D., Director of Pediatric Imaging at Safra Children's Hospital in Israel, presented the cases for Carestream at the event.  

"Carestream's integrated PACS reporting automatically inserts measurements into the report, and advanced bookmarking allows me to quickly record my findings," said Dr. Soudack. "This process simplifies navigation between measurements over multiple studies so I can easily create comparisons. It also expedites reporting of longitudinal studies and can help improve diagnostic accuracy."

 

"With our Vue PACS workstation and advanced tools, each measurement is hyperlinked to the relevant image to simplify the process of verification. Integrated PACS reporting can expedite the generation of quantitative reports while simultaneously helping to reduce errors," said Dr. Benjamin.

The company's Vue PACS provides multi-media reports with live hyperlinks to images and studies. This unified solution equips clinicians with instant access to medical images and patient portfolios from a variety of devices including tablets and smart phones.