Yeovil Hospital Adds Carestream Revolution
LONDON, August 2013 - The Radiology Department at Yeovil District General Hospital in Somerset in south west England has purchased a CARESTREAM DRX-Revolution Mobile X-ray System to enable faster and better mobile imaging. The acquisition follows the installation of a new Carestream PACS/RIS system in early 2013. Staff at the Radiology Department, which carries out around 115,000 examinations a year across a range of modalities, previously used mobile CR units to carry out examinations at bedside. The new Carestream DRX-Revolution mobile unit does away with the need to process CR cassettes in a separate processing area by delivering the x-ray image wirelessly to the PACS from the patient's bedside.
Diagnostic Services Manager at Yeovil, Fiona Rooke, has already found benefits from the Carestream DRX-Revolution for both clinical staff and patients: 'Rapid image acquisition and the ability to check images at bedside mean fewer repeats,' she said. 'We are able to show clinicians high quality images at bedside so clinical decisions can be made more rapidly, resulting in faster treatment for patients. The Carestream DRX-Revolution is also extremely easy to drive and manoeuvre and the retracting column is especially helpful.'
Fiona summed up her team's opinion of the new Carestream DRX-Revolution: 'It's an excellent piece of equipment which has revolutionised mobile radiography here.'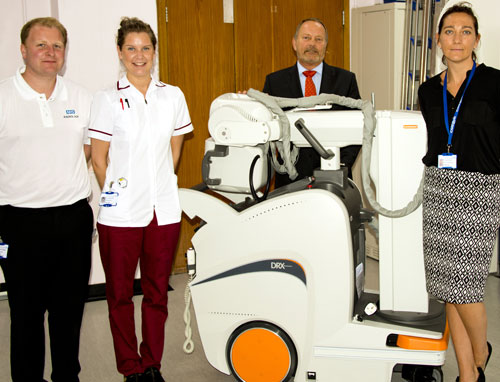 (l to r) Richard Newman, Alice Milligan, Yeovil District General Hospital; Tim Kilby, Carestream Key Account Manager; Fiona Rooke, Diagnostic Services Manager, Yeovil District General Hospital  
About Carestream Health
Carestream is a worldwide provider of dental and medical imaging systems and IT solutions; X-ray imaging systems for non-destructive testing; and advanced materials for the precision films and electronics markets—all backed by a global service and support network. For more information about the company's broad portfolio of products, solutions and services, please contact your Carestream representative or call 888-777-2072, or visit www.carestream.com.
CARESTREAM is a trademark of Carestream Health.
2013