Showcased Innovative Radiology Solutions at India's Largest Radiology Congress
Its latest innovations in CR, DR, PACS and laser printing solutions enable faster access to medical images, enhancement in work flow and improvement in image quality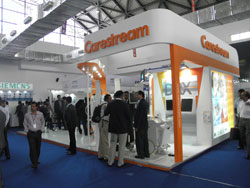 Mumbai, India; February 27, 2012 – At the 65th Indian Radiology Congress, touted as India's largest radiology annual tradeshow, Carestream Health India demonstrated a slew of state-of-the-art digital imaging products. The congress, organized by the Indian Radiological & Imaging Association (IRIA) and attended by over 2,500 imaging specialists and healthcare professionals, was held in Hyderabad from 28th to 31st January.
One of the key spotlights of the congress was the Carestream Health stall, made distinctive by its welcoming design and by a vast display of innovative products, which reflected its unique theme of 'A Smarter Way Forward'. The focus of Carestream Health India's product showcase at the congress was its latest innovations in its CR, DR, PACS and laser printing solutions that enable faster access to medical images, enhancement in work flow and improvements in image quality. The attendees were able to experience the following:
The CARESTREAM DRX-Ascend System:Designed for small and mid-sized hospital radiology departments, imaging centers, clinics and specialists' offices, the CARESTREAM DRX-Ascend DR System offers a cost-effective entry to digital imaging and high flexibility with its versatile floor-mounted tube stand and a wide, elevating float-top table with a patient weight capacity of 295 kilograms.
The  CARESTREAM DRX-1 System : This is world's first cassette-sized wireless DR detector that fits existing analogue equipments and turns them into DR systems in just a day. The CARESTREAM DRX-1 System has been devised to solve workflow and productivity challenges faced by healthcare providers on a daily basis. 
The CARESTREAM DRX-Mobile Retrofit : Carestream's mobile retrofit kit uses a single wireless detector, the DRX1 system, to convert your existing mobile x ray equipment—regardless of supplier—to a DR system fast and cost effectively.
The CARESTREAM DirectView Classic CR System:  Streamlining workflow for higher productivity and patient throughput, the CARESTREAM DirectView Classic CR System produces high-quality images and allows placement in any X-ray room or X-ray control console room.
The CARESTREAM DirectView Vita CR System: An affordable, compact and tabletop imaging solution, the CARESTREAM DirectView Vita CR System is designed specifically for small hospitals, clinics and specialty practices. Its compact footprint fits easily into small areas, while being light weight and portable makes it ideal for mobile units.
The CARESTREAM DryView 5700 Laser Imager: A laser film printing solution for low to mid volume print applications, the CARESTREAM DryView 5700 Laser Imager is an ideal solution for CR, DR, CT and MR imaging applications, and one that caters to specialized radiology needs of clinics, imaging centers and other medical imaging service providers.
The CARESTREAM DryView 6850 Laser Imager:  Ideal for printing from multiple modalities including CR, DR, CT, MR, NM and US and digital mammography, the CARESTREAM DryView 6850 Laser Imager ensures exceptional performance and superb image quality.
The CARESTREAM DryView CHROMA Imager: This new imaging system enables printing on both film and color paper which eliminates the need for multiple printers and minimizes operating costs with affordable consumables and low maintenance requirements.  
 CARESTREAM Vue  is a next-generation healthcare information technology platform that simplifies RIS+PACS+reporting in radiology, cardiology and mammography. With thousands of proven implementations worldwide, Vue's scalable enterprise workflow, vendor-neutral archiving and cloud-based services optimize medical imaging for clinical excellence and superior patient care.
Speaking on the significance of participating in the prestigious Congress, Mr. Prabir Chatterjee, Managing Director, Carestream Health India, said, "With IRIA being the largest and most important event for the radiology industry not just in India but the entire South East Asia, the Congress was an enormous platform for us to showcase our cutting edge products to our customers. The response from the medical community who visited our Carestream stall was very positive. We are very happy with the keen interest visitors have shown to our large range of innovative solutions."
                                                                           ###
About Carestream Health
Carestream Health is a worldwide provider of dental and medical imaging systems and healthcare IT solutions; molecular imaging systems for life science research and drug discovery/development; X-ray film and digital X-ray systems for non-destructive testing; and advanced materials for the precision films and electronics markets.
For more information about the company's broad portfolio of products, solutions and services, please contact your Carestream Health representative or visit www.carestream.com.
CARESTREAM is a trademark of Carestream Health
2012