Carestream Wins Contract To Supply Ris Pacs Solution To Two South West Trusts
LONDON,UK – 20 November 2012. Carestream Health has signed a contract to supply their latest RIS/PACS solution to both Taunton and Somerset NHS Foundation Trust and Yeovil District Hospital NHS Foundation Trust.
Given the choice of procurement options and collaborations available to procure the replacement IT solution, the Trusts decided to work collaboratively in sourcing their preferred PACS/RIS solution and opted to use the NHS Supply Chain Framework to purchase these from Carestream.
The new systems will allow the two Trusts to work collaboratively using Global Worklists to achieve the significant efficiencies offered by cross site working and reporting. The installation will include Carestream Vue Motion zero footprint viewing capability and Carestream Vue Archive, allowing staff across both Trusts secure, real time access to complete patient records seamlessly via a patient-centric vendor neutral archive with a universal viewer.
The Carestream Vue RIS will run on the latest V11 software which provides colour coded interfaces and offers individual views of the interface according to user requirements, wherever they are located across the two Trusts. The new software version will enhance information sharing, particularly the ability to collaborate seamlessly across multiple sites and multiple clinical specialties.
Simon Rigby, Head of Clinical Support for Taunton and Somerset NHS Foundation Trust, said "Improving the patient experience and improving patient care are key strategic goals for my Trust, Carestream Health will deliver many clinical and administrative benefits to support these goals".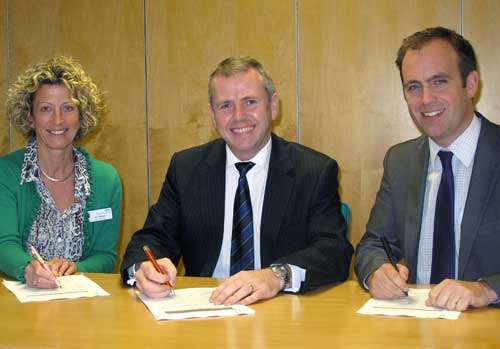 Signing the Contract are (L-R) Jo Cubbon, Chief Executive, Taunton & Somerset NHS Foundation Trust, Charles McCaffrey, Managing Director, Carestream Health UK  Limited and Paul Mears, Chief Executive, Yeovil District Hospital NHS Foundation Trust.
About Carestream Health
Carestream Health is a worldwide provider of dental and medical imaging systems and healthcare IT solutions; X-ray film and digital X-ray systems for non-destructive testing; and advanced materials for the precision films and electronics markets.
For more information about the company's broad portfolio of products, solutions and services, please contact your Carestream Health representative or visit www.carestream.com.
CARESTREAM is a trademark of Carestream Health.
2012