Ten Years Of Operation Sees 50,000 Visitors To Technical & Innovation Centre in Genoa, Italy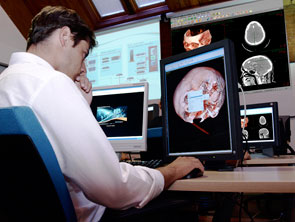 GENEVA, Switz., Aug 5―Since opening its doors in April 2000, Carestream Health's state-of-the-art Technology & Innovation Centre (T&IC) in Genoa, Italy has hosted more than 50,000 visitors.    

Located in the ancient harbor district, the facility is staffed by nearly 100 experts in diagnostic imaging, IT and integration technologies who deliver top-quality education and training programmes, as well as professional services and support to healthcare customers across Europe, the Middle East and Africa. Within the facility visitors can not only view current medical imaging and healthcare IT platforms, but also upcoming new product releases and receive practical demonstrations on new digital solutions. 

"Visitors from all over Europe come here to train and learn about Carestream Health's solutions within a cutting edge digital environment," said Massimo Angileri, Worldwide Director, Healthcare Information Solutions Services, Carestream Health. "From this unique facility we help our customers meet the imaging challenges of today and tomorrow and our staff help enhance their expertise in the fast changing world of healthcare IT and digital radiology."

The T&IC is the European hub for Carestream Health's service infrastructure where remote proactive monitoring of customer systems takes place to ensure peak efficiency with maximum system uptime. This specialised team also monitors service data from around the globe with the aim of recommending future equipment modifications to improve performance and increase uptime.

Key components of the centre include:
A pre-staging area for equipment to smooth the progress of installations and ensure the minimum of time is spent at customer sites
An IT laboratory dedicated to integration and quality assurance for both customised and standard solutions
A virtual platform where customer environments are replicated for release and integration testing
A complete simulated radiology department for potential customers to view solutions in practice
The European centre for proactive remote monitoring of customer systems to ensure peak operational efficiency
A key link in education and training support for European healthcare professionals 
Since opening the T&IC in Genoa, Carestream Health has replicated this successful European model in both Rochester, New York and Shanghai, China.
####
About Carestream Health
Carestream Health is a worldwide provider of dental and medical imaging systems and healthcare IT solutions; molecular imaging systems for the life science research and drug discovery/development market segments; and x-ray film and digital x-ray products for the non-destructive testing market. For more information about the company's broad portfolio of products, solutions and services, please contact your Carestream Health representative or visit www.carestreamhealth.com.
CARESTREAM is a trademark of Carestream Health, Inc.
2010