Carestream Health Rolls Out New Mobile Version of its Website
ROCHESTER, N.Y., Sept. 30 — With more and more healthcare professionals using mobile phones, PDAs, iPhones and other handheld devices to access the Internet, Carestream Health, Inc., is introducing a new version of its company website optimized and formatted specifically for use with mobile devices.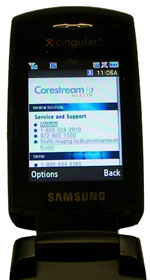 Designed with the needs of busy radiology professionals, healthcare IT executives and other customers in mind, the mobile version of carestreamhealth.com enables users to access information about Carestream Health products and services—as well as connect with company representatives—in just seconds while on the go. Customers can quickly and easily contact the company with one-touch calling and e-mailing directly from the mobile device.
A study published in the Journal of Medical Internet Research indicates that the overall adoption rate of handheld computing devices and PDAs among healthcare providers may be as high as 85 percent. "Since the study occurred in 2006, the adoption rate could be even higher today," said Jean-Marc Laigle, Carestream Health's Director of Worldwide Marketing.
"While many companies have websites that can be viewed with mobile devices," he added, "Carestream Health has gone a step further by designing and implementing a format specifically tailored to the mobile world. Our customers are juggling many important responsibilities and often can't afford to wait until they get in front of a PC to get the information they need. This new feature lets users quickly get information and connect with Carestream Health regardless of where they are."
Laigle also pointed out that Carestream Health intends to broaden the global reach of its mobile site to include additional countries and languages, with the initial implementation being English-based. To access this new feature, simply point your mobile phone to www.carestreamhealth.com.
                                                                                           ###
About Carestream Health, Inc.
Carestream Health, Inc., is a leading provider of dental and medical imaging systems and healthcare IT solutions; molecular imaging systems for the life science research and drug discovery/development market segments; and x-ray film and digital x-ray products for the non-destructive testing market. The company was formed in 2007 when Onex Corporation (TSX: OCX.TO) purchased Eastman Kodak Company's Health Group. For more information about
Carestream Health, contact your Carestream Health representative or visit www.carestreamhealth.com.
CARESTREAM is a trademark of Carestream Health, Inc.
KODAK is a trademark of Kodak used under license.
2008