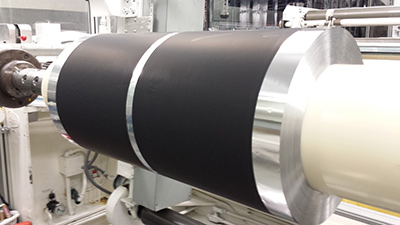 Carestream precision coating partnerships leverage our aqueous and solvent coating expertise at bench, pilot and production scale for optimal product design, technology integration and manufacturability. Our engineers apply unique processing knowledge and analytical capabilities to help partners apply precision single and multilayer coating constructions on flexible substrates for applications including energy storage, display, medical, optical, electronic and beyond.
We deliver a full supply-chain solution to move advanced technology products from benchtop to production. Our facilities offer multiple advanced, precision coating capabilities and assets, plus the full support of Carestream planning, logistics, finance and purchasing competencies available. Converting and packaging for roll and sheet goods with slitting and chopping capabilities are also available under the same roof.
Our lab, pilot, and production-scale assets deliver operational excellence, including dynamic coating development and prototyping, as well as pilot-scale roll-to-roll process development. We also adhere to exceptional standards of GMP (Good Manufacturing Practices), quality and ISO certification, and use of Lean Six Sigma manufacturing techniques.
Read our process development case studies below to find out more about our processing innovation, or contact us to learn how a Carestream partnership can help you achieve higher product performance at reduced cost.