Photochemicals
Develop superb intraoral and extraoral dental films quickly and easily with our processing formulas. Choose from a variety of ready-to-use formulas for automatic processing machines, or select one of our high-quality manual processing formulas. Regardless of which method you prefer, you'll receive optimum image quality.


Manual Processing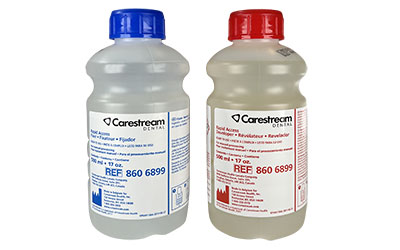 Rapid Access Chemicals
With Rapid Access dental chemicals, ready-to-read radiographs are available for interpretation in 30 seconds, without leaving your patient's side.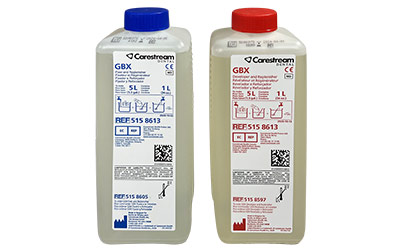 GBX Chemicals
GBX Chemicals are liquid chemical concentrates designed for the manual processing of all intraoral and extraoral dental film. Both developer and fixer are single-solution concentrates, which provide mixing convenience, chemical stability and identical mixing and dilution procedures for tank and replenishment solutions. They are available in a twin pack that includes both the developer and fixer or may be purchased individually.


Automatic Processing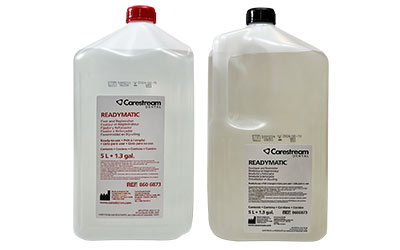 READYMATIC Chemicals
READYMATIC Dental Developer and Fixer are designed for use in all automatic roller-transport dental x-ray film processors. They deliver clear, consistent results for all intraoral and extraoral radiographs. For your convenience, our chemicals are available in ready-to-use form and are also sold separately in handy chem packs.