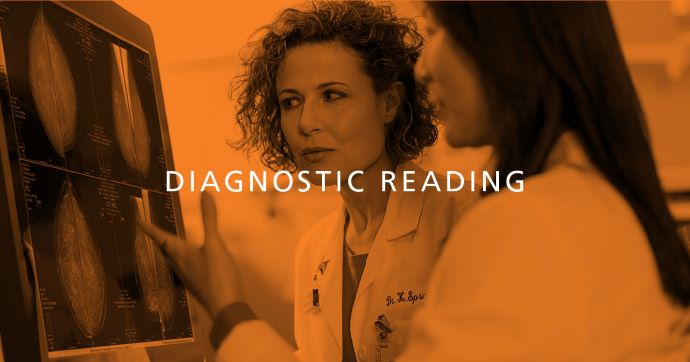 Diagnostic Reading #15: Five "Must Read" Articles on Medical Imaging
Reading Time: 3 minutes read
Epidemic of burnout among radiologists leads the news this week.
This week's articles in Diagnostic Reading include: coaching to relieve burnout among radiologists; fetal CMR provides valuable data; how to triage mammogram patients with limited capacities; AI improves CT scans of patients with CF; PET guidelines to help coronary artery disease diagnosis.
How coaching can help address the epidemic of burnout among radiologists – Radiology Business
The epidemic of burnout that affects radiologists and other physicians is only growing worse amid the COVID-19 pandemic. However, the emerging practice of coaching – using positive psychology – may help address this issue, according to experts in the Journal of the American College of Radiology. This practice typically works to instill three fundamental skills in physicians to help them 'achieve their best selves' – including mindful listening, open-ended inquiry and perceptive reflections. Read the blog on Silencing Distractions in Radiology through Meditation by Dr. Donald J. Flemming.
Fetal CMR detects congenital heart defects, changes treatment decisions – Diagnostic Imaging
When echocardiography results are unclear, fetal cardiovascular MRI (CMR) can produce valuable information about congenital heart defects, leading to treatment or management decisions changes in more than 80 percent of cases, reports a study in JAMA Network Open. Nor only could this imaging information be used to augment treatment for infants, but it also could be helpful in providing counseling for parents. This clinically valuable data may impact choices for mode of delivery, early postnatal care planning as well as parental counseling.
Catching more breast cancers when mammograms are limited – Axis Imaging News
While the COVID-19 pandemic has been challenging, it is also giving researchers an opportunity to discover new approaches to saving lives. A study published in the JAMA Network Open recommends a new way for triaging mammogram patients during times of limited capacity, such as pandemic surges, when individuals may also experience anxiety about COVID-19. In one of the largest studies of its kind, the researchers found that a risk-based algorithm – based on clinical indication, breast symptoms, breast cancer history and age – successfully maximized cancer detection.
AI algorithm automates cystic fibrosis CT scan analysis – MedImaging
A new artificial intelligence (AI) algorithm can analyze CT scans of cystic fibrosis (CF) patients in several seconds, without human interference. The Thirona Pragma-AI is designed to automatically identify lug abnormalities related to CF, such as collapsed lung tissue and abnormal airways. The sensitive, objective information on the pattern and extent of CF lung disease is immediately available and helps clinicians monitor disease progression and support clinical treatment planning.
New guide helps clinicians better diagnose coronary artery disease using PET myocardial blood flow – Health Imaging
Two of molecular imaging's top professional organizations recently published new guidelines for using positron emission tomography (PET) to better diagnose coronary artery disease. Measuring myocardial blood flow as part of perfusion imaging has been a key development in the field and should be part of providers' daily workflow, experts said. The society of Nuclear Medicine and Molecular Imaging and the American Society of Nuclear Cardiology created step-by-step approaches for interpreting and reporting the data, publishing the guide in both the Journal of Nuclear Cardiology and Journal of Nuclear Medicine.
#diagnosticreading