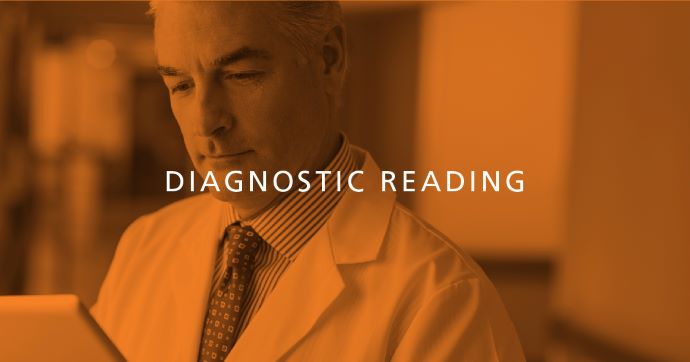 Diagnostic Reading #32: Five "Must Read" Articles on Medical Imaging
Reading Time: 3 minutes read
Strategies for radiology administrators during COVID is in the news.
This week's articles in Diagnostic Reading include insights for radiology administrators during COVID-19; CT turnaround time drops nearly 80%; how radiologists can increase personal wellness; future COVID-19 medical image database; and Snapchat helps radiology residents.
COVID-19: insights for radiology administrators – Everything Rad
Radiology administrators share how they are addressing key challenges due to COVID-19, including staff morale, decline in imaging exams and its impact on staff, and planning for the unknown.
How one hospital radiology department dropped CT procedure turnaround time by 78% – Radiology Business
While starting an imaging procedure on time with a quick turnaround is an ongoing challenge for radiology departments, one provider has dramatically reduced such issues. Emory Healthcare in Atlanta created a team of experts, performed a root cause analysis, tested more than a dozen fixes—and ultimately dropped turnaround times for CT-guided procedures by almost 78%. With a key goal of decreasing wait times for patients and providers, the team urged their peers to take this issue to heart in their own practices. Read the blog on Increasing Productivity in the Radiology Department.
Radiologist wellness and burnout in the COVID-19 era – Diagnostic Imaging
Though physicians are vulnerable to experiencing burnout and sacrificing their personal wellness for their job—which is now even more evident due to the COVID-19 pandemic's strain on the healthcare system—radiologists face challenges unique from their colleagues. In fact, resident radiologists are set up to burn out during their training and carry that vulnerability into their working careers. This article offers simple practices to help combat the decline of personal wellness and stave off burnout, even with the added stress of the current health emergency. Read the blog on Silencing Distractions in Radiology through Meditation.
ACR, RSNA, and AAPM to develop massive open-source COVID-19 medical image database – Axis Imaging News
The nation's largest medical imaging associations are working together to develop the Medical Imaging and Data Resource Center (MIDRC), a new open-source database with medical images from tens of thousands of COVID-19 patients. The MIDRC will help doctors better understand, diagnose, monitor and treat COVID-19. Funded under the National Institutes of Health's special emergency COVID-19 process, this effort is co-led by representatives from the American College of Radiology (ACR), the Radiological Society of North America (RSNA) and the American Association of Physicists in Medicine (AAPM).

Snapchat makes radiology diagnosis a snap for residents – AuntMinnie
Snapchat—the social media platform famous for its quickly disappearing images—proved to be an effective tool for educating radiology residents in a pilot study recently published in Emergency Radiology. With radiology residents viewing five emergent radiologic cases on Snapchat and five similar cases on a classroom projector, they performed significantly better on Snapchat. The study authors noted the COVID-19 pandemic is underscoring the need to create innovative teaching methods, and with residents' high comfort level with mobile technology, smartphones may be one tool to connect with students and residents.
#everythingrad #diagnosticimaging