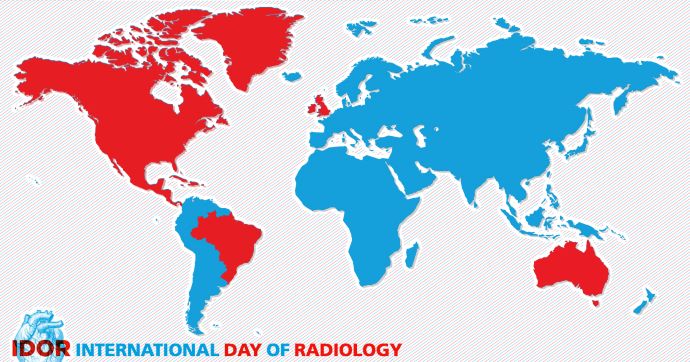 IDOR2018 Part 1: A Global Perspective on Past Developments in Medical Imaging
Reading Time:
5
minutes
Part 1: the biggest advances in diagnostic imaging in the past decade.
International Day of Radiology on Nov. 8 is a notable occasion for the diagnostic imaging profession. To mark this year's anniversary of the discovery of the X–ray, we asked thought leaders around the world to reflect on developments in medical imaging, past and future. (Interested in what the future holds for diagnostic imaging? Read Part 2 in our series.)
Their responses covered advances in technology as well as interesting insights on changes within the profession. Our contributors are:
Patrick Eastgate, Past President of the Australian Society of Medical Imaging and Radiation Therapy (ASMIRT);
Gus Iversen, Editor in Chief, HealthCare Business News, US;
Richard Evans, OBE; and Chief Executive Officer, The Society and College of Radiographers (SoR);  (United Kingdom)
Max Wintermark, MD, Chief of Neuroradiology at Stanford; and Chair of the Radiological Society of North America (RSNA) Public Information Committee;
Brian Casey, Editor in Chief, AuntMinnie.com, US;
Luiz Carlos de Almeida, journalist specializing in radiology and image studies, and editor of the journal ID Interação Diagnóstica (Brazil); and
Greg Freiherr, veteran writer and editor, US.
Today, we publish the first blog in our two-part series: a look back at the advancements in diagnostic imaging that made the biggest impact in the past decade. Next week, we will publish part two: the most important advancements that will shape the future of medical imaging.
We thank all of our participants for taking the time to share their informed perspectives. Please share your thoughts and insights in the comments field at the end of this blog.
Which advancements in diagnostic imaging have had the biggest impact in your region in the past 10 years?
The first question we posed was to look back at the past decade. Most of our thought leaders agreed that wider adoption of DR – and all the impacts it brings – had the most profound change in medical imaging in the past decade. However, they also had insights on changes in the radiology profession, CT, and imaging for stroke diagnosis.
In Australia, the most pervasive change is "undoubtedly the speed of acquisition, image viewing and dissemination in a digital environment," said Patrick Eastgate, Past President of ASMIRT.
Gus Iversen, Editor in Chief, HealthCare Business News, agreed. "Nothing has revolutionized care delivery more than the superior images, faster acquisitions, and connectivity possibilities that come with going digital."
In Brazil, the increasing adoption of DR also has had an economic impact. "Being able to store and transform analog to digital was one of the advances that I consider most important," said Carlos de Almeida, Journalist and Editor of the journal ID Interação Diagnóstica. "We are a country with serious economic issues. Technology brought a lot of value to managing the volume of customer services, from the smallest to the largest, with resource savings. It also allowed the sharing of information with more efficient and competent professionals."
Our experts at Carestream Health agreed that the proliferation of digital radiography has had a dramatic effect on improving both diagnostic image quality and productivity at medical facilities worldwide.
The CT workhorse gets a vote
CT technology got the vote from Brian Casey, noted editor of AuntMinnie.com, for having made the biggest impact on diagnostic imaging.
"While other modalities might be flashier, CT continues to be radiology's workhorse modality. Developments like multi-slice scanning and advanced visualization image reconstruction are enabling CT to produce ever-more-sophisticated images. At the same time, the technology is spreading out into new areas of service, such as emergency rooms, dedicated extremity CT scanners, and even special stroke ambulances. We also have witnessed the downside of CT's growth, in terms of concerns over radiation dose and unnecessary utilization. For better or for worse, no other modality has shaped diagnostic imaging over the past 10 years like CT has."
Developments broad and narrow in imaging technology
Our thought leader in Brazil took a broader view – encompassing all medical imaging technologies. "From the more traditional radiological film to the most efficient MRI, what I consider the most important is the scan and the image technology," said Mr. Almeida. "There were many technologic advances in the image area in the past years which transformed the specialty, increasing its efficiency, its accuracy and, mainly, the volume of customer service. New equipment in the medical image area surprised us and aggregated more accurate information, which gave doctors the chance to diagnose with more efficiency."
Max Wintermark, MD, Chief of Neuroradiology at Stanford and Chair of the RSNA Public Information Committee, cited a development that impacts a smaller slice of the profession, but with equally important outcomes.
"In my mind, the advancement in diagnostic imaging that has had the biggest impact in the past 10 years is the validation of the role of imaging to expand the time window for stroke in large prospective phase III clinical trials. This new, image-guided approach to acute stroke patient management allows us to treat a much larger number of stroke patients and significantly improves their outcome."
Our Carestream resources noted an additional advancement in medical imaging: the growth of 3D imaging. This has been driven by several factors including recognition of its superior visualization over 2D, increasing acceptance among radiologists and surgeons, and technological advances in computational ability, image storage, and 3D viewing.
A shift in the burden of image reporting
Richard Evans, Chief Executive Officer of The Society and College of Radiographers (SoR) in the UK, called out a change within the professional practice.
"I am specifically thinking about the impact of team working between radiologists and radiographers in order to deal with the increasing burden of image reporting. Although the production of definitive reports by radiographers has been part of diagnostic imaging service provision in the UK for over 20 years, the expansion in advanced clinical radiographic practice and consultant radiographic practice in recent years has been very marked. National statistics in England indicate that some 32% of all diagnostic images are reported by radiographers or sonographers. This has been achieved by close working within radiology teams at the local level and supported by national health policy."
Read Part Two in the series: the most important advancements in medical imaging in the future.
And  subscribe to Everything Rad today to have future blogs delivered to your email inbox! #IDOR2018
Katie Kilfoyle Remis is the editor of Everything Rad and the global social media strategist for Carestream Health.