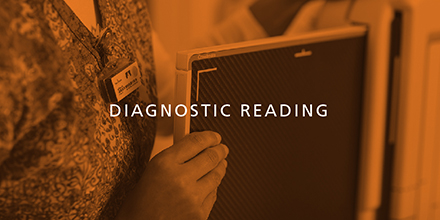 Diagnostic Reading #51: Five "Must Read" Articles on HIT and Radiology
Reading Time: 3 minutes read
Radiology management, European e-health, and virtual groups are in this week's news.
This week's articles in Diagnostic Reading include: important recent improvements to the NHS; essential steps to access capital and manage assets in radiology; MIPS and the virtual groups option for radiologists; the relationship roles between IT and radiology; and a blogger's look at the European eHealth agenda in 2018.
The move to an 'open and transparent' NHS culture – British Journal of Healthcare Computing
The National Health Service (NHS) has made important improvements to develop an open and transparent culture across the system, according to one author. These changes include the creation of the Health Service Safety Investigations Body, which will investigate serious incidents related to patient safety. The author states that it is important to build a 'learning culture' and clinical leaders should develop a 'growth mindset' and take every experience as an opportunity to improve.
6 steps to successful asset management in radiology – Radiology Business
It is essential to understand how to access capital and manage assets in radiology, according to a vice president and chief operating officer for a regional healthcare organization. This article details his six steps to build justification and to tell the story for managing assets. The steps are: know the plan; create an asset inventory list; create a five-year capital plan; choose your equipment; create your proforma/business plan; and conduct more analysis.
Are virtual groups an option for radiologists reporting MIPS? – AuntMinnie
Physicians participating in Medicare's Merit-Based Incentive Payment System (MIPS) have the option of reporting data for 2018 as an individual eligible clinician, as part of a group practice that bills Medicare using the same Taxpayer Identification number or as part of a virtual group. Unless otherwise indicated in the Quality Payment Program Final Rule for 2018, virtual groups will follow the same rules as other group practices participating in MIPS. Some details relative to the formation of a virtual group include group composition, reporting, and the election process. The virtual group election period for the 2018 reporting period began in October and will close on December 31, 2017. Virtual group reporting is not an option for the 2017 reporting period.
Why the customer service model in healthcare doesn't work – Radiology Business
The relationship between IT and radiology has transitioned over the past few decades, from one of little association to complete interdependence. The integration of EMR, RIS, PACS and imaging modalities has made the radiology workflow more efficient. However, this efficiency also makes the IT/radiology relationship more complicated—and interhospital partnerships can compound this when the goal is to standardize technology and workflows across multiple organizations. This article examines their relationship roles and whether the customer service model works.
A look into the crystal ball—the European eHealth agenda for 2018 – HIMSS Europe Insights
What will shape the European eHealth agenda in 2018? A journalist specializing in medicine, health policy and eHealth shares his ideas in a recent blog. His answers include: artificial intelligence, cloud-based healthcare IT tools, and the end of the healthcare-related app bubble.
Blog of the week: infection control in ultrasound – it's not a game – Everything Rad
The design of your ultrasound system can have an impact on infection control. Read the blog to learn about Carestream's touch-panel controls that eliminate the need to clean around difficult nooks and crannies.
Check back next Friday for a new issue of Diagnostic Reading. #HealthcareIT #Radiology #Diagnosticreading #EverythingRad