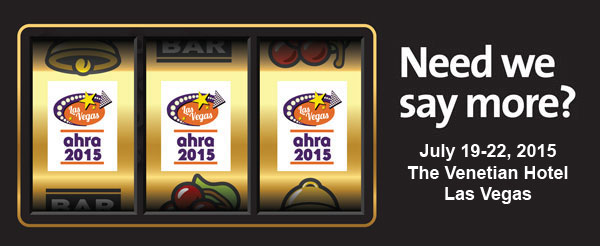 Seven AHRA Sessions to Add to Your Agenda
Reading Time: 5 minutes read
AHRA 2015 will be kicking off in Las Vegas on Sunday, July 19.
While there are many worthwhile sessions to attend throughout the four-day annual meeting, below are seven I would like highlight. I will also be blogging throughout the event, so please check back on Everything Rad for details and key takeaways about these sessions. You can go to the AHRA website to view the full schedule of sessions.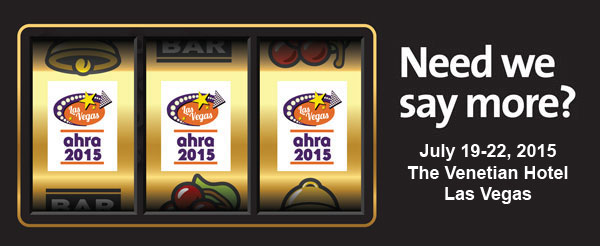 Monday, July 20 – 9:00 AM – 11:00 AM
Grand Opening Ceremony and Keynote: Uncrapify Your Life!
Opening keynote Jeff Havens will teach you how to:
Avoid negative and unproductive conversations.
Easily implement no-cost communication strategies that will immediately create positive change in your team dynamic.
Appreciate the importance of small things when it comes to delivering outstanding customer service or creating a healthy corporate culture.
Think about change in a new way that will significantly relieve any concern or tension regarding existing or upcoming changes in your organization.
Monday – 2:15 PM – 3:45 PM
Breakout Session: Strategic Planning: Turning Strategy into Reality – Julie Henry, MBA, Ochsner Health System, New Orleans, LA
Henry's presentation will outline the components of impactful strategy, setting objectives, assessing current state, identifying future models of care, and designing a project charter to accomplish goals. Attendees will learn how to:
Evaluate the purpose of strategic planning and how it serves as a roadmap to success.
Develop a strategic plan that is actionable, measurable, has clear goals and objectives & aligned with institutional priorities.
Formulate a plan that translates strategy from creation to implementation.
Monday – 4:00 PM – 5:00 PM
Breakout Session: "The Eyes Have It," EVERYTHING Is an Image – Shawn McKenzie, MPA
Ascendian Healthcare Consulting, Roseville, CA
McKenzie's session will describe in detail the premise that all data is visible and that imaging plays a major contributing role to the enterprise. Attendees will learn how to:
Recognize the new and emerging role and use factor of "enterprise medical imaging." This course will define medical imaging in a much greater context than the standard (Radiology, Cardiology) where anatomical medical images are the norm.
Define how technologies such as Vendor Neutral Archive (VNA), Enterprise Content Management (ECM) and Clinical Viewers have emerged from the "imaging" space and describe how these technologies, when deployed, can consolidate "images" and "visible objects"
Define the use factor, and perhaps debunk the idea that the EHR is, or should be the repository for patient health information (PHI). We will explore the use of "imaging" information technology as a key component to continuity of care.
Tuesday – 9:45 AM – 11:00 AM
General Session and Keynote: If You Can't Stand Up, Stand Out!
Mike Schlappi's keynote will teach attendees how they can:
Understand that the best way to predict your future is to create it.
Be motivated to take personal responsibility for your success.
Understand the importance of "if you can't stand up, stand out."
Tuesday – 4:00 PM – 5:30 PM
Clinical Decision Support: Boondoggle or Boon? – Liz Quam, Center for Diagnostic Imaging, St. Louis Park, MN
In Quam's session, she will focus on the current state of clinical decision support (CDS), and what can be expected next as the 2017 Medicare mandate approaches and people continue to work in a relatively new industry with still undeveloped standards. In this session, attendees will learn about:
The reasons for the relatively rapid adoption of Clinical Decision Support
Minnesota's successful efforts to eliminate commercial Radiology Benefit Managers through CDS adoption
The political history and strategy for Medicare's mandated adoption of Clinical Decision Support
Gain an insider's knowledge of the CDS technical profile work that has been done, on an internationally collaborative basis
You will be challenged to become involved in the fight to move commercial payers away from Radiology Benefit Managers.
Wednesday – 8:30 AM – 9:30 AM
 Breakout Session:  Increasing Radiology Value Through Enterprise Imaging – A Case Study – Chris Tomlinson, MBA, CRA, and Jeff Bryers, MBA, The Children's Hospital of Philadelphia – Philadelphia, PA
In this session, Tomlinson and Bryers will go through a case study at the Children's Hospital of Philadephia where the value and enterprise imaging model  was accomplished. Attendees of this session will be able to:
Understand how Enterprise Imaging can increase care of patients.
Setup an Enterprise Imaging Governance Structure.
Identify how partnering with IGS can raise radiology's profile.
Wednesday – 10:00 AM – 11:00 AM
Breakout Session: Leading by Listening: Helping Your Customers Be Successful – Todd Minnigh, BS,
Carestream – Rochester, NY
In his session, Minnigh will discuss how around the world people in imaging departments and services struggle to please many masters. He will share business expertise with business professionals for their use and benefit, in hopes they can pay it forward to their patients, customers, and others. From this session, attendees will learn how to:
Improve relationships with referring physicians and patients.
Understand the need to see the world through their eyes.
Build trust, credibility and rapport in our dealings with patients and other customers in our lives.
Additionally, Carestream will be exhibiting at AHRA 2015 at booth #1025, so please be sure to make it a stop on your tour around the hall. The top three technologies we will have on display include:
A model of the company's INVESTIGATIONAL cone beam CT (CBCT) system that is currently undergoing clinical studies. These patient studies will help guide Carestream's development of new CBCT systems with the goal of providing orthopaedic imaging solutions that use less radiation than traditional CT; are compact and affordable; and can be used in a wide range of facilities.
The new Touch PRIME Ultrasound System, which recently received FDA 510(k) Clearance and is available for order in the United States, will be demonstrated. Top-of-the-line offering. Designed for general diagnostic imaging use in radiology, it employs Carestream's Touch Prime SynTek Architecture, a combination of advanced technologies that simultaneously provide enhanced spatial detail with increased frame rate while optimizing image formation to reduce noise and artifacts.
Get hands on with the DRX-Revolution, the highest rated portable system in MD Buyline's Market Intelligence Briefing™ (Q2 2015) for both portable digital X-ray systems. MD Buyline's reports are based on user satisfaction ratings in the following categories: system performance, reliability, installation/implementation, applications training, service response time and service repair quality
What session are you looking forward to most at AHRA?
Erica Carnevale is the sales and marketing content manager for the U.S. and Canada at Carestream. She will be at AHRA in the Carestream booth (#1025), and will blogging on Everything Rad about sessions she attends throughout the annual meeting.