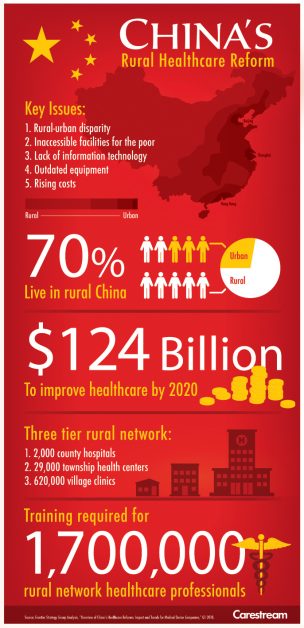 INFOGRAPHIC: China's Rural Healthcare Reform
Reading Time: 2 minutes read
This summer, I am spending a month in China sightseeing and visiting family and friends.  My in-laws live in a very rural part of China in a village called Ta Qiao with population of roughly 6,500 people.  To give this some perspective, Beijing has about 13 million permanent residents and another 10 million plus folks floating in and out of the capital.  This trip gives me an opportunity to see first-hand the country's efforts to reform healthcare in rural China.
Before I arrived in China a couple weeks ago, reports indicated that while major progress has been made there is still tremendous work to do.
More than 835 million people, which accounts for 95 percent of rural residents, have joined the New Rural Cooperative Medical System for access to affordable health coverage. But with two-thirds of rural clinics in disrepair, government construction to improve thousands of rural medical centers is just picking up steam.
From what I've seen, it is too early to tell how fast and significantly the gap is being narrowed between urban and rural residents' access to care.  However, one thing is clear: urban medical centers continue to outpace rural facilities in spend on and use of new medical technologies.
During my time in Ta Qiao, I plan to visit a village clinic to see how medical care is being delivered and what advanced technologies, if any, are being used.  I'm also on the hunt for examples of how advanced health IT systems are connecting urban and rural medical facilities and professionals for better diagnosis and patient care.  For that, I will venture to a nearby town, Ying Tan, with population of roughly 250,000 people located closely to Nanchang, a 3rd tier city with roughly 2.5 million people.
Are you following China's reform? What areas should have greater focus? What lessons can other countries take from China's successes and struggles?
Need a quick primer on the rural initiatives in China's healthcare reform? See our infographic below.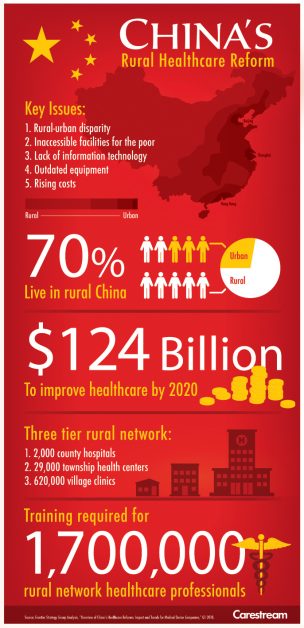 Special thanks to the Frontier Strategy Group for letting us use their data.