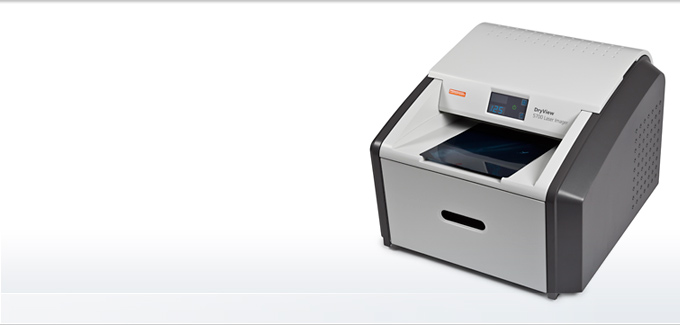 CARESTREAM DRYVIEW 5700 Laser Imager
The DRYVIEW 5700 Laser Imaging System offers simplicity and affordability for healthcare facilities of all sizes. This innovative tabletop medical imaging system offers a modest acquisition price, consistently low operating costs. This combination creates a complete picture of true affordability. And the DRYVIEW 5700 is compatible with many modalities: computed radiography (CR), digital radiography (DR), computed tomography (CT), and magnetic resonance (MR) applications.
*Available in Most Countries
Features
Specifications
Support
Features
Affordable
Low acquisition and operating costs supports all budgets
Compact design
Small tabletop size enables placement into any workspace
Ease of operation
No daily or weekly preventive maintenance is required on print heads or film transport rollers to optimize image quality. A simplified user interface, room light film loading, and easy film loading further facilitate use.
Superb print quality
Every image on every film size is printed using true laser technology.
CR, DR, CT, & MR compatibility
Ideal solution for Computed Radiography (CR), Digital Radiography (DR), Computed Tomography (CT) and Magnetic Resonance (MR) medical image printing applications. Supports dispersed or remote printing applications.
Specifications
Support