James H. Ogle, President, United States and Canada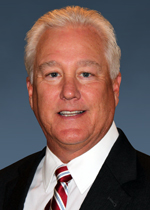 James H. Ogle is President, United States and Canada, and is a member of the company's senior executive leadership team.
Mr. Ogle manages the sales, service and operations for all Carestream business lines in the United States and Canada. Over the past 28 years, he has held a variety of leadership positions in direct sales, sales management, product development and global business management. Most recently, he was the General Manager of Sales and Operations in the United States and Canada, where he was responsible for revenue and earnings of the Digital Capture, Ultrasound, Cone Beam CT and HCIS businesses.
Previously, as Product Line Manager, he was directly responsible for the DRX Detector program, as well as the Revolution Mobile X-Ray program. During his time as global business manager for Digital Radiography, he kept the product road maps and platform development efforts focused on the customer. Before joining Kodak and Carestream, Mr. Ogle spent ten years in healthcare, working in Radiology and in Radiology management. His clinical experience in medical imaging enabled him to bring a strong customer focused approach to product development at Carestream.
Mr. Ogle has been awarded patents in Digital Imaging equipment and is a graduate of the University of Alabama in Birmingham (UAB).