DIGITAL MAMMOGRAPHY
Cost-effective digital solutions for accurate, efficient breast cancer detection
Transform your department, clinic or screening program for improved productivity and more confident diagnosis. Whether you are starting your transition from film or expanding your digital capabilities, we have a mammography solution that will fit your budget and your workflow.

Find the right product for your specific needs

Skontaktuj się z nami

Jeśli chciałbyś, aby skontaktował się z Tobą przedstawiciel sprzedaży wypełnij formularz sprzedaży.. W przypadku pytań o produkt lub firmę, proszę wypełnić formularz ogólny.formularz ogólny.
Success Story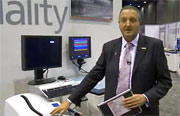 Video demonstration of Carestream CR Mammography Feature, live from RSNA 2009
View video