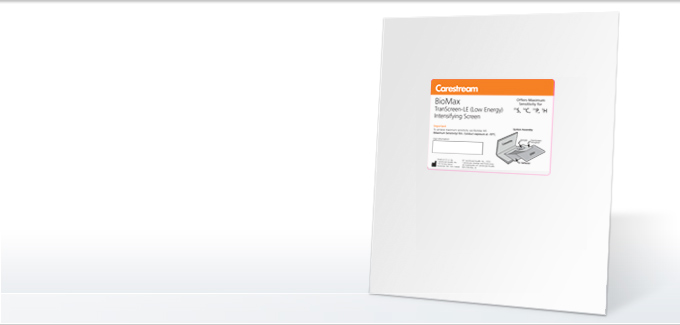 BioMax TranScreen LE
(low energy) is the first intensifying screen designed to be used with medium and low energy beta isotopes i.e. 35 S, 33 P, 14 C, 45 Ca, 59 Fe, & 3 H. The BioMax TranScreen LE can achieve a 0.301 OD (medium) image 5 to 35 times faster than direct autoradiography for detection of low energy radioisotopes. The BioMax TranScreen LE also offers better sensitivity and resolution than Fluorography, eliminating toxic fluorochromes.
Film Dealer Locator
Features
Options
Available Sizes
Support
Features
First screen system for low and medium energy isotopes.
Provides increased sensitivity for all isotopes.
Thinner phosphor layer than TranScreen HE Screen offers greater resolution for 32P and 125I.
A better alternative for Fluorography.
Options
Available Sizes
Support