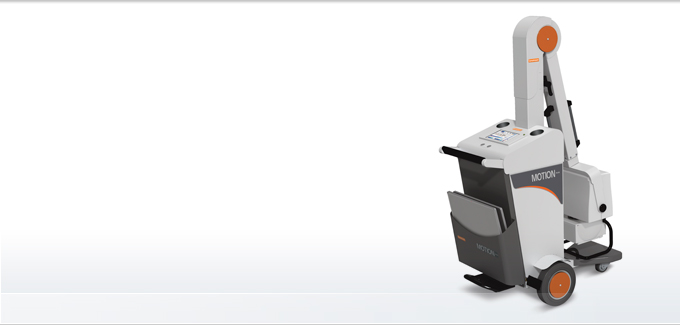 Motion Mobile X-Ray System
Cyfrowo gotowy. Unikalnie zaprojektowany.
CARESTREAM Motion Mobile X-ray System * to bardzo tanie urządzenie mobilne, które jest małe, lekkie i łatwe w użyciu.
Motion Mobile to bardzo ekonomiczny pomost między obrazami analogowymi CR a DR. Jego unikalną cechą jest możliwość uaktualnienia i dostosowanie systemu zarówno do aktualnych potrzeb jak i planowanych w przyszłości.
*Niedostępne do sprzedaży w Ameryce Północnej  
Funkcje systemu - analogowe
Funkcje system - cyfrowe
X-Factor
Funkcje systemu - analogowe
Wybór ręcznej lub Anatomicznej Zaprogramowanej Radiografii (APR) w celu szybkiego wyboru techniki badania.

8-calowy ekran dotykowy - łatwy w obsłudze do ustawiania protokołów.

Możliwość wyboru na przełącznik automatycznego ustawienia lub ręcznej kontroli expozycji.

Ręczny kolimator wiązki świetlnej.

Odchylenie do podnoszenia kół nad niewielkimi przeszkodami i ułatwienie dostępu do windy.

Generator wyładowczy kondensatora 30kW.

Opcjonalny DAP umożliwia dostęp do istotnych informacji potrzebnych do monitorowania dawki promieniowania pacjenta.

 
Funkcje system - cyfrowe
X-Factor