Michael L. Smith, in precedenza Executive Vice President e CFO, Anthem, Inc.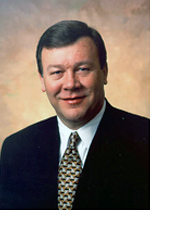 Michael L. Smith è stato Executive Vice President e Chief Financial Officer (CFO) di Anthem, Inc., e delle controllate, Anthem Blue Cross e Blue Shield, dall'aprile 1999 fino al pensionamento nel gennaio 2005.  Anthem è una delle maggiori società per assicurazione sanitaria degli Stati Uniti.
Dall'aprile 1996 al marzo 1998, è stato Chief Operating Officer e CFO di American Health Network, che era una controllata di Anthem e forniva servizi di gestione degli studi medici a 270 strutture di assistenza primaria negli stati Indiana, Kentucky e Ohio. 
Prima di passare ad Anthem, il Signor Smith è stato Chairman, President e Chief Executive Officer dell'azienda di trasporti Mayflower Group, Inc.  Ha iniziato la propria carriera nel settore business presso l'ufficio di Indianapolis di Arthur Andersen and Co. dopo essersi laureato alla DePauw University nel 1970.
Attualmente il Signor Smith è nei Board of Directors di diverse aziende, incluse: Emergency Medical Services Corporation, Inc., il più grande fornitore di servizi medici d'emergenza del paese; Kite Realty Group Trust, un trust per investimenti immobiliari (ovvero REIT, Real Estate Investment Trust); Vectren Corporation, un'innovativa azienda del settore energetico; e HH Gregg Appliances, Inc., uno dei principali venditori al dettaglio di elettrodomestici ed elettronica consumer del paese.  Inoltre è nei Board di Finishmaster, Inc., e della controllante, Ldi Ltd., e di Calumet Specialty Products Partners, L.P. 
Il Signor Smith è anche nel Board della Central Indiana Community Foundation ed è un membro del Board of Trustees di DePauw University, Indiana Commission for Higher Education e Lumina Foundation for Education. 
Il Signor Smith è un membro fondatore di Cardinal Equity Partners, un fondo d'investimento mid-market private equity con sede a Indianapolis, Indiana.