Eliot Siegel, M.D.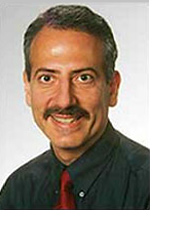 Dr. Siegel è professore e vice presidente ricerca informatica presso l'Università del Maryland School of Medicine, Dipartimento di Radiologia Diagnostica, nonché Capo di Radiologia e Medicina Nucleare per la Affari Maryland Sistema Sanitario Veterani, sia in Baltimore, MD. Inoltre il Dr. Siegel è responsabile del National Cancer Image Archive del NCI ed è Workspace Lead del caBIG In Vivo Imaging Workspace del National Cancer Institute.
Sotto la sua direzione, il Maryland Healthcare System è diventato la prima organizzazione sanitaria "filmess", ossia che opera senza pellicole, degli Stati Uniti. Ha scritto oltre 200 articoli e capitoli di libri sui PACS (Picture Archiving and Communication Systems) e sull'imaging digitale, e ha curato la pubblicazione di sei libri sull'argomento, inclusi Filmless Radiology e Security Issues in the Digital Medical Enterprise. Ha tenuto più di 1.000 presentazioni in tutto il mondo su un ampio spettro di temi concernenti l'utilizzo dei computer in medicina. È stato nominato Researcher of the Year, ha ricevuto diversi premi per l'innovazione, incluso il Smithsonian Award, ed è stato scelto come runner up Educator of the Year for Diagnostic Radiology. I lettori e il board editoriale di Medical Imaging hanno scelto il Dr. Siegel come uno dei "top ten radiologists" degli ultimi due anni. Per tre anni è stato Symposium Chairman del Medical Imaging Meeting della Society of Photo-optical and Industrial Engineers (SPIE), attualmente è Chair of Publications della Society of Computer Applications in Radiology (SIIM) ed è stato nominato Fellow di tale organizzazione. È Chairman del Medical Imaging Resource Committee della RSNA. Le sue aree d'interesse e responsabilità, a livello sia locale sia nazionale, includono imaging digitale e PACS, telemedicina, Electronic Medical Record (cartella elettronica del paziente) e informatica.
Il Dr. Siegel ha conseguito un M.D. presso la University of Maryland.