Joseph F. Dooley, ancien président de la division Duracell de la société Procter & Gamble et des opérations Gillette en Amérique du Nord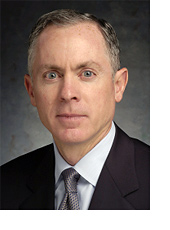 Joseph Dooley a occupé des postes de direction chez Duracell, Gillette Company et leur société mère, Procter & Gamble.
M. Dooley, qui a pris sa retraite en 2007 pour devenir investisseur privé, a exercé des fonctions lui conférant des responsabilités de plus en plus importantes chez Duracell et Gillette, après avoir obtenu une licence du Husson College, en 1975. Plus récemment, il a été président de Duracell et président de Nanfu Battery Company, société basée en Chine et acquise par Duracell en 2003. Duracell est le premier producteur mondial de piles alcalines de haute performance.
Auparavant, M. Dooley a été président de Duracell Canada, au moment de l'acquisition de Duracell par Gillette en 1997. Il a par la suite pris la présidence de Gillette North America, où il a travaillé sur une série de marques emblématiques de produits grand public de toilettage et de soins buccodentaires pour ce fabricant et vendeur renommé.
M. Dooley a fait partie du Conseil d'administration de la Retail Industry Leaders Association et du Students in Free Enterprise. Il a également siégé au Conseil d'administration de la National Association of Chain Drug Stores' Leadership Council et du Industry Affairs Council of the Grocery Manufacturers Association.