Ludovic d'Aprea, General Manager of Healthcare Information Systems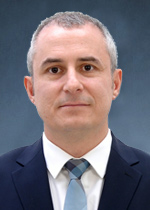 Ludovic d'Aprea is the General Manager of Healthcare Information Systems at Carestream. He brings a wealth of P&L management skills and experience in healthcare IT and imaging equipment industry.

Mr. d'Aprea joined Carestream in Oct 2011 as Cluster Manager – France, Belgium and Luxemburg, where he changed the company's go-to-market strategy to overachieve AOP revenue in a difficult environment by driving greater market share improvement. He was then appointed General Manager Europe, Digital Manager Solutions, to drive future go-to-market strategy in the region and lead the new "One Europe" organization. He was General Manager Europe, in charge of P&L that included medical film and digital medical solutions, until he moved to Rochester, NY, in August 2014 as Global General Manager Healthcare Information Solutions. He successfully positioned Carestream as a global leader of healthcare IT business thanks to a focused strategy on quality and disruptive technologies, such as cloud, workflow orchestration and analytics.

Before joining Carestream, Mr. d'Aprea was in charge of GE Healthcare IT for France, Belgium & Luxembourg where he was instrumental to the development of eManaged services in the region.

Prior to this, he held several international management positions with increasing sales & marketing responsibilities in the telecom industry, including a role as an EMEA Sales Director position at Fluke Networks.

Formerly trained as an optician, Mr. d'Aprea has a BBA and a Master's degree in Business. He is a member of the French Society of Radiology (SFR) and French Society of Medical Systems Manufacturers (SNITEM).